TORONTO – Thursday, June 8, 2017 – Falling Awake by Alice Oswald and Injun by Jordan Abel are the International and Canadian winners of the 2017 Griffin Poetry Prize. They each received C$65,000 in prize money.
The Griffin Poetry Prize was founded in 2000 to serve and encourage excellence in poetry. The prize is for first edition books of poetry written in, or translated into, English and submitted from anywhere in the world.
International Winner
Canadian Winner


Falling Awake
Alice Oswald
Jonathan Cape / W.W. Norton & Company


Injun
Jordan Abel
Talonbooks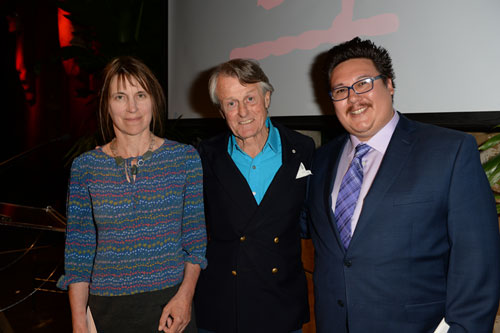 The awards ceremony, attended by some 320 invited guests, was held in the Fermenting Cellar in The Distillery Historic District. Scott Griffin, founder of the prize, and trustees Mark Doty, Carolyn Forché, Marek Kazmierski, Michael Ondaatje, Jo Shapcott, Karen Solie and David Young hosted the event where the guests enjoyed readings by Frank Bidart, The Griffin Trust For Excellence In Poetry's 2017 Lifetime Recognition Award recipient, and a recitation of Don McKay's "Sometimes a Voice", by David White, a 2017 Finalist of Poetry In Voice/Les voix de la poésie.
The judges for the 2017 Griffin Poetry Prize are Sue Goyette (Canada), Joan Naviyuk Kane (US) and George Szirtes (UK). These distinguished writers and poets each read 617 books of poetry, received from 39 countries around the globe, including 23 translations. The trustees of The Griffin Trust For Excellence In Poetry select the judges annually.
The 2017 Griffin Poetry Prize shortlist features four International and three Canadian poetry collections:
Jane Mead's World of Made and Unmade, published by Alice James Books
Donald Nicholson-Smith's translation, from the French, of In Praise of Defeat by Abdellatif Laâbi, published by Archipelago Books
Alice Oswald's Falling Awake, published by Jonathan Cape, and W.W. Norton & Company
Denise Riley's Say Something Back, published by Picador
Jordan Abel's Injun, published by Talonbooks
Hoa Nguyen's Violet Energy Ingots, published by Wave Books
Sandra Ridley's Silvija, published by BookThug
On June 7 the poets read excerpts from their books at the Shortlist Readings for 1,000 people in Toronto in Koerner Hall at The Royal Conservatory, TELUS Centre for Performance and Learning. Trustee Jo Shapcott presented each poet with a leather-bound edition of their book and $10,000 for their participation in the Readings.
During that evening, esteemed poet Frank Bidart was announced as The Griffin Trust For Excellence In Poetry's 2017 Lifetime Recognition Award recipient, to the surprise and delight of the capacity audience. Trustee Mark Doty paid tribute to Frank Bidart and presented him with the award.
The Griffin Poetry Prize Anthology: A Selection of the 2017 Shortlist, edited by Sue Goyette and published by House of Anansi Press, is now available at most retail bookstores and online. Royalties generated from the anthologies, published annually, are donated to UNESCO's World Poetry Day that was created to support linguistic diversity through poetic expression and to offer endangered languages the opportunity to be heard in their communities.
For further information, contact:
Shortlist summary, poet bios and citations
Download press release | Download photos
Purchase 2017 Griffin Prize Anthology and shortlist books online
Return to the News Release index.
Photo credit: Event photo by Tom Sandler