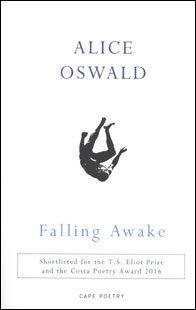 Book: Falling Awake
Poet: Alice Oswald
Publisher: Jonathan Cape/W.W. Norton & Company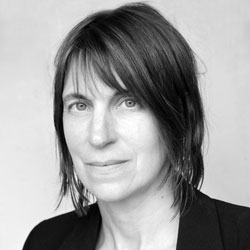 Biography
Alice Oswald lives in Devon and is married with three children. Her collections include Dart, which won the 2002 T.S. Eliot Prize, Woods etc. (Geoffrey Faber Memorial Prize), A Sleepwalk on the Severn (Hawthornden Prize), Weeds and Wildflowers (Ted Hughes Award) and, most recently, Memorial, which won the 2013 Warwick Prize for Writing. 'Dunt', included in this collection, was awarded the Forward Prize for Best Single Poem.
In June 2019, Alice Oswald was elected to the prestigious role of Oxford Professor of Poetry.
Judges' Citation
"Alice Oswald's Falling Awake presents as a dark text to (re)turn (in)to, its language of '… maybe the last green places[…]' striking bright inscriptions that may have been 'falling for a long time.' How fortunate we are to tread the paths of myth and that which presupposes it, and us: line, image, lilt. Quite within other declarations, Oswald exalts with great nimbleness: 'I notice the lark has a needle / pulled through its throat.' In these poems, enclosed at times within the old enchantments of Eurydice, Orpheus and Tithonus, one wonders about the problem of being bound to place, to anything at all. And then, the problem, too, becomes a source of wonder – albeit tempered by the concise splendour of a mind that moves quickly within the confines of night and day. Falling Awake permits the reader to breach lyric time as the poet explicates the fixed architecture as it flickers by, 'trying over and over its broken line / trying over and over its broken line.'"
Summary
Alice Oswald's poems are always vivid and distinct, alert and deeply, physically engaged in the natural world. Mutability – a sense that all matter is unstable in the face of mortality – is at the heart of this new collection and each poem is involved in that drama: the held tension that is embodied life, and life's losing struggle with the gravity of nature. Working as before with an ear to the oral tradition, these poems attend to the organic shapes and sounds and momentum of language as it's spoken, as well as how it's thought: fresh, fluid and propulsive, but also fragmentary, repetitive. These are poems that are written to be read aloud.
Note: Summaries are taken from promotional materials supplied by the publisher, unless otherwise noted.
Alice Oswald reads A Short Story of Falling
A Short Story of Falling

It is the story of the falling rain
to turn into a leaf and fall again

it is the secret of a summer shower
to steal the light and hide it in a flower

and every flower a tiny tributary
that from the ground flows green and momentary

is one of water's wishes and this tale
hangs in a seed-head smaller than my thumbnail

if only I a passerby could pass
as clear as water through a plume of grass

to find the sunlight hidden at the tip
turning to seed a kind of lifting rain drip

then I might know like water how to balance
the weight of hope against the light of patience

water which is so raw so earthy-strong
and lurks in cast-iron tanks and leaks along

drawn under gravity towards my tongue
to cool and fill the pipe-work of this song

which is the story of the falling rain
that rises to the light and falls again

From Falling Awake by Alice Oswald
Copyright © Alice Oswald 2016
More about Alice Oswald
The following are links to other Web sites with information about poet Alice Oswald. (Note: All links to external Web sites open in a new browser window.)
Have you read Falling Awake by Alice Oswald? Add your comments to this page and let us know what you think.
Photo credit: Kate Mount