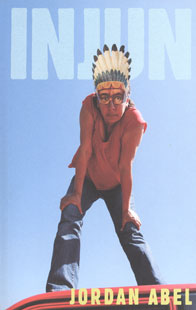 Book: Injun
Poet: Jordan Abel
Publisher: Talonbooks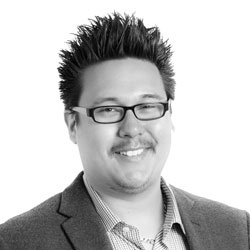 Biography
Jordan Abel is a Nisga'a writer currently completing his PhD at Simon Fraser University, where he focuses on digital humanities and indigenous poetics. Abel's conceptual writing engages with the representation of indigenous peoples in anthropology and popular culture. His chapbooks have been published by JackPine Press, and above/ground press, and his work has appeared in numerous magazines and journals across Canada. He is an editor for Poetry is Dead magazine and a former editor for PRISM international and Geist. Abel's first book, The Place of Scraps was a finalist for the Gerald Lampert Memorial Award and won the Dorothy Livesay Poetry Prize. Abel's second book, Un/inhabited was published in 2014. CBC Books named Abel one of 12 Young Writers to Watch (2015).
Judges' Citation
"Jordan Abel's collection Injun evacuates the subtexts of possession, territory, and erasure. Lyric, yes: 'that part of sparkling / kn ife love that // hates the trouble of rope / and the letters / of tow ns.' Testimony of another kind, too: 'all misdeeds at the milk house / all heap shoots by the sagebrush // all the grub is somewhere / down in the hungry bellies […]'. The fog of tedious over-dramatization clears and the open skies of discourse can be discerned. What does it mean to arrange hate to look like verse? What becomes of the ugly and meaningless? Words are restored to their constituent elements as countermovements in Abel's hands, just as they are divested of their capacity for productive violence. The golden unity of language and its silvered overcoding erode, bringing to bear the 'heard snatches of comment / going up from the river bank.' To pixelize is to mobilize, not to disappear."
Summary
Jordan Abel's Injun takes "cut", "copy", and "paste" to the public domain – particularly to 92 westerns published during the heyday of pulp publishing between 1840 and 1950, also a period of unfettered colonialism in North America. Abel's third book of poetry, a long poem about race and racism, destabilizes the colonial image of the "Indian", both in the public domain and the western genre as a whole. By narrowing the search to the word "Injun" as it appears in the 10,000-page source text of pulp westerns, and by re-appropriating the "erasure" imposed by settler colonialism, Abel reclaims erasure, and pastiche to chisel a path through privileged, colonial histories. Injun testifies to the need for intervention by calling attention to contested issues of land ownership, territory, and the silencing of Indigenous peoples. A natural follow-up to Un/inhabited, Abel's visual poetics bring urgency to the materiality of text by restructuring history on the site of the page.
Note: Summaries are taken from promotional materials supplied by the publisher, unless otherwise noted.
Jordan Abel reads from Injun
b)

he heard snatches of comment
going up from the river bank

all them injuns is people first
and besides for this buckskin

why we even shoot at them
and seems like a sign of warm

dead as a horse friendship
and time to pedal their eyes

to lean out and say the truth3
all you injuns is just white keys

From Injun by Jordan Abel
Copyright © 2016 Jordan Abel
More about Jordan Abel
The following are links to other Web sites with information about poet Jordan. (Note: All links to external Web sites open in a new browser window.)
Have you read Injun by Jordan Abel? Add your comments to this page and let us know what you think.