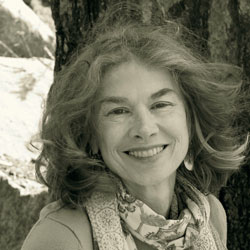 Biography
Brenda Hillman was born in Tucson, Arizona and spent part of her early childhood in Brazil. After receiving her BA from Pomona College, she attended the University of Iowa, where she received her MFA. Wesleyan University Press has published nine collections of Hillman's poetry, including Practical Water (2009), for which she was awarded the Los Angeles Times Book Award for Poetry and Seasonal Works With Letters on Fire which was longlisted for the National Book Award. In 2010, Hillman co-translated Jeongrye Choi's book of poems, Instances. Hillman has received fellowships from the National Endowment for the Arts and the Guggenheim Foundation, two Pushcart Prizes, a Holloway Fellowship from the University of California at Berkeley and the Delmore Schwartz Memorial Award for Poetry. Hillman serves as a professor and poet-in-residence at St. Mary's College in Morago, California. She is also a member of the permanent faculties of Squaw Valley Community of Writers and Napa Valley Writers' Conference.
Judges' Citation
"Seasonal Works with Letters on Fire concludes Brenda Hillman's tetralogy on the four elements of classical thought. She steers wildly but ably through another day of teaching, a ceremonial equinox, the distress of bee colony collapse; space junk, political obstruction, military drones, administrative headaches, and everything in between. The 'newt under the laurel' and 'the herring purring through the eelgrass' don't escape her arc of acuity. Seasonal Works appears to be one of the most inclusive books a hyper-active imagination could wring out of the actual. The symbols of the alphabet come alive and perform acrobatic marvels. Phonetical bird calls join in on cue. The mighty challenges of now are fully engaged. The book performs an 'anarchic music' and stimulates a craving for undiluted love, and a rollicking fury for justice that only its widely variant forms can sustain. This is a unique work. Its letters are on fire."
Summary
Fire – its physical, symbolic, political, and spiritual forms – is the fourth and final subject in Brenda Hillman's masterful series on the elements. Her previous volumes – Cascadia, Pieces of Air in the Epic, and Practical Water – have addressed earth, air and water. Here, Hillman evokes fire as metaphor and as event to chart subtle changes of seasons during financial breakdown, environmental crisis and street movements for social justice; she gathers factual data, earthly rhythms, chants to the dead, journal entries and lyric fragments in the service of a radical animism. In the polyphony of Seasonal Works with Letters on Fire, the poet fuses the visionary, the political and the personal to summon music and fire at once, calling the reader to be alive to the senses and to reimagine a common life.
Note: Summaries are taken from promotional materials supplied by the publisher, unless otherwise noted.
Brenda Hillman reads In High Desert Under the Drones
In High Desert Under the Drones

We are western creatures; we can stand for hours in the sun. We read poetry near an Air Force base. Is poetry pointless? Maybe its points are moving, as in a fire. The enlisted men can't hear. Practice drones fly over-head to photograph our signs; they look like hornets [Vespula] with dangly legs dipping in rose circles with life grains. They photograph shadows of the hills where coyotes' eyes have stars. They could make clouds of white writing, cilia, knitting, soul weaving, spine without nerves, dentures of the west, volcano experiments, geometry weather breath & salt. Young airmen entering the base stare from their Hondas; they are lucky to have a job in an economy like this. The letters of this poem are also lucky to have a job for they are insects & addicts & thieves. Volcanic basalt recalls its rock star father. Creosote & sage, stubby taupe leaves greet the rain. We hold our signs up. We're all doing our jobs. Trucks bring concrete for the landing strip they've just begun.

A cliff stands out in winter
Twin ravens drop fire from its eyes
My inner life is not so inner & maintains the vascular system of a desert plant. I'm grateful to Samuel Beckett & to my high school boyfriend whose drunk father yelled when we closed the door & read The Unnamable during the Tet offensive. They prepared me for this. Outside the base we see borax mines in the distance – the colors of flesh, brown, black, peach, pink, bronze. We stand there as the young airmen settle into their routine. The Gnostics noted is is difficult to travel between spheres, you've had to memorize the secret names & the unnamable haunts every aspect of your routine. The names grown heavier as you carry them between the spheres.

From Seasonal Works with Letters on Fire by Brenda Hillman
Copyright © 2013 by Brenda Hillman
More about Brenda Hillman
The following are links to other Web sites with information about poet Brenda Hillman. (Note: All links to external Web sites open in a new browser window.)
Have you read Seasonal Works with Letters on Fire by Brenda Hillman? Add your comments to this page and let us know what you think.
Photo credit: Brett Hall Jones