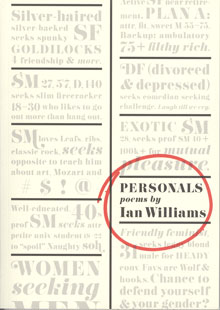 Book: Personals
Poet: Ian Williams
Publisher: Freehand Books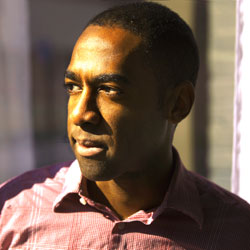 Biography
Ian Williams' previous books are Not Anyone's Anything (2011) and You Know Who You Are (2010). He is the winner of the 2011 Danuta Gleed Literary Award for the best first English-language collection of short fiction, a finalist for the ReLit Prize for poetry, and was named as one of ten Canadian writers to watch by CBC. Williams completed his Ph.D. in English at the University of Toronto and works as an English professor. Williams has held fellowships or residencies from Vermont Studio Center, Cave Canem, Kimmel Harding Nelson Center for the Arts and Palazzo Rinaldi in Italy. He was also a scholar at the National Humanities Center Summer Institute for Literary Study. His writing has appeared in Fiddlehead, Arc, Contemporary Verse 2, Rattle, jubilat, Confrontation, The Antigonish Review, Gargoyle, Folio, Pebble Lake Review, Callaloo, Descant, and Matrix Magazine. He currently lives in Brampton, Ontario.
Judges' Citation
"The moment I opened Personals, I was smitten. Mr. Williams is a musician. His words sing like brooks and streams through a virgin forest, laugh like waterfalls, startle and delight along the way with hidden eddies and boils. Mr. Williams is also an artist. His images fly like kites in the wind, with whistling somersaults. He blends personal emotion with historical tension, tradition and modernity, ordinary and magical so seamlessly. When he pulls the strings of contradictions: light and heavy, hilarious and serious, I can't help but dance like a happy puppet in the masterful hands. I'm so happy to find another shining star above Canada's poetry horizon!" – Wang Ping
Summary
These are not love poems. These are almost-love poems. Jittery, plaintive, and fresh, the poems in Ian Williams' Personals are voiced through a startling variety of speakers who continually rev themselves up to the challenge of connecting with others, often to no avail. Williams writes in traditional poetic forms: ghazals, a pantoum, blank sonnets, mock-heroic couplets. He also invents his own: poems that spin into indeterminacy, poems that don't end. With a deft hand and playful ear, Williams entices the reader to stumble alongside his characters as they search, again and again, for intimacy, for love and for each other.
Note: Summaries are taken from promotional materials supplied by the publisher, unless otherwise noted.
Ian Williams reads from Rings
from Rings

Problem is our armpits and crotches are feathered
with cobwebs. Problem is she leaks soft-boiled eggs
or I package seedless grapes. Problem is her parents
made us wait until that had crossed the width
of my nose. Problem is she has a migraine. Problem is
we did not want children. Problem is we did
not want each other until too late. Problem is I can't be
late for work in the morning. Problem is this morning
she says she dreamt she was holding a sandwich bag
of crickets. Problem is I am already late and listening
to the weather. Problem is we don't speak
to the problem. Problem is the school bus
that stops in front of our townhouse just as I'm reversing

the problem is we don't know who

But we did not want children. But we did
not want a townhouse either. But we got
a townhouse in a field of children with round
dimpled faces. But we did not want girls.
But we saw them in ribbon and crinoline
at church. But we did not want boys. But
we saw them squeezing frogs near the ravine.
But we did not want children. But they knocked
on our door with UNICEF cartons and chocolate
almonds. But we did not buy. But we bought.
But they wore soccer uniforms and ballet leotards
under their winter coats. But they sat in their mother's
car as she dropped off the Avon. But we were surrounded by

pregnant women who grew round around

Or we could get a Pekingese. Give me children, or else I die.
Or a Siamese cat. Give me children, or else I die. Or we could
redecorate with glass and steel and pointy corners
in the best modern way. Give me children, or else I die. Or else
move to a ch-ching penthouse. Give me children,
or else I die. Or throw parties and serve canapés. Give me
children, or else I die. Or travel by train from farther to further
every spring. Give me children, or else I die. Or we could spend
the evenings counting our gold. Give me children, or else
I die. Or become the cool aunt and uncle. Give me children,
or else I die. Or sponsor a child or buy a goat. Give me children,
or else I die. Or buy a hybrid or recycle more or run
a shelter or feed the poor or bike for cancer or knit for preemies

or else give me children or else give me
children

From Personals by Ian Williams
© Ian Williams 2012
See also
Poem of the Week – from Rings
More about Ian Williams
The following are links to other Web sites with information about poet Ian Williams. (Note: All links to external Web sites open in a new browser window.)
Have you read Personals by Ian Williams? Add your comments to this page and let us know what you think.