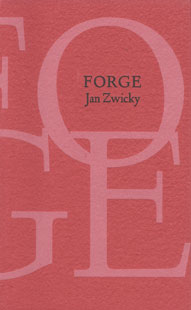 Book: Forge
Poet: Jan Zwicky
Publisher: Gaspereau Press
Biography
Jan Zwicky has published eight collections of poetry including Songs for Relinquishing the Earth, which won the Governor General's Literary Award in 1999, Robinson's Crossing, which won the Dorothy Livesay Prize and was shortlisted for the Governor General's Literary Award in 2004, and Thirty-Seven Small Songs and Thirteen Silences. Her books of philosophy include Wisdom & Metaphor, which was shortlisted for the Governor General's Literary Award in 2004, and Plato as Artist, a non-specialist celebration of Plato's writerly talents. Zwicky has published widely as an essayist on issues in music, poetry, philosophy and the environment. A native of Alberta, she now lives on Quadra Island, off the coast of British Columbia.
Forge has also been shortlisted for the Pat Lowther Award.
Judges' Citation
"In Forge, Jan Zwicky performs a balancing act of great poise and beauty. An extended set of variations on the theme of listening, the collection pays repeated attention to music – and through it, to the natural world and human relationships. Love and death are topics almost too risky to address directly, especially with this kind of breathless, caught-up writing: the stakes could not be higher. Zwicky addresses them fearlessly, making them meaningful and felt, and borrowing the languages of mystery, even religion, to do so. The payoff is real and extraordinary. Gracefully sustained, her unashamedly lyric verse always feels earned by, and earthed in, lived experience: whether of grief or companionship, those great conditions, or, repeatedly, of a watery world. This is a book gauzy with images of condensation, meltwater, flood and mist. It also manages the rare trick of taking on music's abstract forms. For all her precision, this poet brings us close to the music of abstraction that lies near the heart of true verse."
Summary
This new collection from Jan Zwicky is a set of variations that employs a restricted, echoic vocabulary to explore themes of spiritual catastrophe, transformation and erotic love.
Note: Summaries are taken from promotional materials supplied by the publisher, unless otherwise noted.
Jan Zwicky reads Night Music
Night Music

You remember it as winter, but what you see
are leaf-shadows on the cupboard door,
black in the moonlight,
shifting a little in some breeze,
then still.

3:00 a.m., barefoot in the kitchen,
moon-shadows of the lilac on the cupboard door,
gathered with you on the threshold.

You are only trying to say
what you see in the world. Spring.
Winter. Even knowing what you love
is no salvation. Their heart shapes,
trembling in the moonlight, sharp as frost.

From Forge, by Jan Zwicky
© Jan Zwicky, 2011
More about Jan Zwicky
The following are links to other Web sites with information about poet Jan Zwicky. (Note: All links to external Web sites open in a new browser window.)
Have you read Forge by Jan Zwicky? Add your comments to this page and let us know what you think.