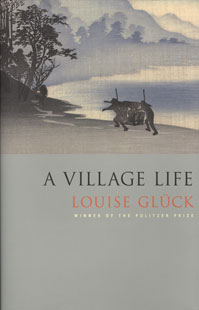 Book: A Village Life
Poet: Louise Glück
Publisher: Farrar, Straus and Giroux
Biography
Louise Glück is the author of eleven books of poems and a collection of essays. Her many awards include the Pulitzer Prize, the National Book Critics Circle Award, the Bollingen Prize and the Wallace Stevens Award from the Academy of American Poets. She teaches at Yale University and lives in Cambridge, Massachusetts.
On October 8, 2020, Glück was awarded the 2020 Nobel Prize in Literature, cited for "her unmistakable poetic voice that with austere beauty makes individual existence universal".
Judges' Citation
"In A Village Life, Louise Glück presents us with a choir of voices whose song enacts and contemplates our human quest for the very happiness that – as if instinctively – we refuse. The result is a restlessness that seems never to leave us, as Glück suggests in 'In the Café': 'It's natural to be tired of earth./When you've been dead this long, you'll probably be tired of heaven./You do what you can do in a place/but after a while you exhaust that place,/so you long for rescue.' This clarity of wisdom everywhere punctuates these poems which, even as they concern restlessness, are cast in long lines shot through with imagery of pristine, archetypal simplicity producing a cinematic stillness; one thinks of the camera in a Bergman film. The tension between that stillness and the subject of restlessness produces a resonance that builds even as it shifts like thought, like the light and dark that constantly fall across the village itself. As for the village, it seems ultimately to be the human spirit itself, replete with hopes realized and dashed, dreams without resolution, memories to which we return, often enough, to our regret, and too late. A Village Life is a tour-de-force of imagination and artistry, and shows Glück putting her considerable powers to new challenges."
Summary
A Village Life, Louise Glück's eleventh collection of poems, begins in the topography of a village, a Mediterranean world of no definite time or place. Glück has been known as a lyrical and dramatic poet; here, for the first time, she speaks as 'the type of describing, supervising intelligence found in novels rather than poetry,' as Langdon Hammer has written of her long lines. While Glück's manner is novelistic, she focuses not on action but on pauses and intervals, moments of suspension (rather than suspense), in a dreamlike present tense in which poetic speculation and reflection are possible.
Note: Summaries are taken from promotional materials supplied by the publisher, unless otherwise noted.
Louise Glück reads Crossroads
Crossroads, by Louise Glück
Crossroads

My body, now that we will not be traveling together much longer
I begin to feel a new tenderness toward you, very raw and unfamiliar,
like what I remember of love when I was young –

love that was so often foolish in its objectives
but never in its choices, its intensities
Too much demanded in advance, too much that could not be promised –

My soul has been so fearful, so violent;
forgive its brutality.
As though it were that soul, my hand moves over you cautiously,

not wishing to give offense
but eager, finally, to achieve expression as substance:

it is not the earth I will miss,
it is you I will miss.

From A Village Life, by Louise Glück
Copyright © 2009 by Louise Glück
More about Louise Glück
The following are links to other Web sites with information about poet Louise Glück. (Note: All links to external Web sites open in a new browser window.)
Have you read A Village Life by Louise Glück? Add your comments to this page and let us know what you think.
Photo credit: Gasper Tringale