Book: Liquid Nitrogen
Poet: Jennifer Maiden
Publisher: Giramondo Publishing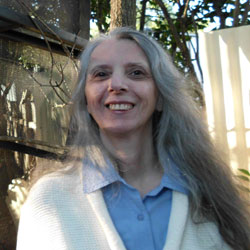 Biography
Jennifer Maiden has published sixteen collections of poetry; her most recent book, Pirate Rain (2010) won the Age Poetry Book of the Year Award and the NSW Premier's Kenneth Slessor Prize for Poetry. She is a recipient of the Christopher Brennan Award for lifetime achievement.
Judges' Citation
"Jennifer Maiden's Liquid Nitrogen may very well be the most contemporary collection of poetry you'll ever read. Over the course of these dense, obsessive, and allegorical long poems, Maiden has created an absurdist theatre of global politics in which the spirits of public figures from across the last century share the stage with politicians, terrorists, dissidents and fictional creations from our continuous present. Combining a free-wheeling, meditative style with crisp, lucidly elegant lines, Maiden's philosophical verse investigates the poetics of narrativity itself, not only as mediated by the news on TV, but by the no-less ethically charged realm of art as well. An extended meditation on the uses and abuses of power, the moral gravity of Liquid Nitrogen is buoyed throughout by Maiden's self-effacing sense of humor and her tenderness towards her grown daughter, Katherine, who stands at the heart of this collection. Epic in its scope and utterly eccentric in its approach, Liquid Nitrogen is a work of rare passion and unprecedented poetic achievement from one of Australia's most prominent living writers, 'alert to the point of twitching,' like the ox to whom she likens herself on page one, who nevertheless 'still tramples through the difficult.'" – Suzanne Buffam
Summary
Jennifer Maiden's 'weaving' poems are like verse essays or conversations, in which the political issues of our time and the figures who dominate them are presented with the same clear intelligence and eye for detail, as the most personal aspects of the poet's experience. This is the quality of liquid nitrogen which gives the book its title – 'the frozen suspension which is risky / but also fecund and has beauty' – a substance which permits intense and heated interactions, and at the same time the survival of delicate organisms. In the cool medium of Maiden's poetry Julia Gillard is considered by her mentor Nye Bevan, Kevin Rudd shares a flight with Dietrich Bonhoeffer, Eleanor Roosevelt plays Woody Guthrie for Hillary Clinton. The poems focus on the terrorist attacks in Mumbai, Breivik in Norway, dissidents in Beijing, the protests in Tahrir Square and Gillard's use of power, alongside tributes to friends and family, the ox and the tiger, music and the power of poetry.
Note: Summaries are taken from promotional materials supplied by the publisher, unless otherwise noted.
Leslie Greentree reads Emerald-cut by Jennifer Maiden
Emerald-cut

Alexandrian turquoise. The Nepean
tends to that hue after sunset: sky
blue if the sky were the true
colour of an Egyptian goddess,
semi-precious. In astronomy, the new
galaxy this week is tiny, the
shape of a lozenge, they say
'like an emerald-cut diamond', but
emerald-cut looks innocent, clear
through in the centre with no bright
light-shaking facets. The river
looks innocent like that: a deadly
reassurance in its mirror. Another
person drowned in it this week:
Yarramundi. Yes, dear, you must be one
of the world's most lethal rivers. In
astronomy, when our galaxy
crashes into Andromeda, billions
of light years in the future, we
will look like an emerald-cut, probably,
they say. Warragamba
Dam water floods weeds to Hawkesbury
so the emerald-cut shines smooth and fine
and chill as liquid nitrogen again, here
from the dead dam depths and under
it the goddess turquoise, like
semi-precious sky,
like any shattered sun to shine
like water-diamonds, like
all revenants is private but returns
a public habit lying it is mine.

From Liquid Nitrogen by Jennifer Maiden
© Jennifer Maiden 2012
More about Jennifer Maiden
The following are links to other Web sites with information about poet Jennifer Maiden. (Note: All links to external Web sites open in a new browser window.)
Have you read Liquid Nitrogen by Jennifer Maiden? Add your comments to this page and let us know what you think.
Photo credit: Katharine Toohey