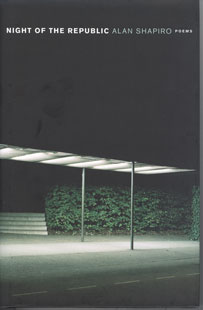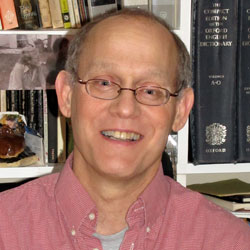 Biography
Alan Shapiro's recent collection, Old War, won the 2009 Ambassador Book Award. A National Book Critics Circle Award finalist and winner of the Los Angeles Times Book Prize, Shapiro is the William R. Kenan Jr. Distinguished Professor of English and Creative Writing at the University of North Carolina, Chapel Hill.
Judges' Citation
"This extraordinary poetic sequence, Alan Shapiro's eleventh book, is an attempt to enter and diagnose a pervasive emptiness at the heart of contemporary American life. Shapiro's unwavering gaze fixes on vacant public spaces at night — parking garage, car lot, park bench, gas station men's room — and finds in those absences a way to read the marks of human presence, the scuffs and scars and damages that reveal the vulnerability that lies beneath our ambition, our hurry and our disregard. These meditative, syntactically supple lyrics bring a new level of abstraction and of sophistication to this poet's work, marking a maturation of an already accomplished style that makes him a poet commensurate with the strange, aching, exhilarating spaces of modernity." – Mark Doty
Summary
An urgent and timely collection by one of America's most inventive and accessible poets. In Night of the Republic, Alan Shapiro takes us on an unsettling night tour of America's public places — a gas station restroom, shoe store, convention hall, and race track among others — and in stark Edward Hopper-like imagery reveals the surreal and dreamlike features of these familiar but empty night spaces. Shapiro finds in them not the expected alienation but rather an odd, companionable solitude rising up from the quiet emptiness.
Note: Summaries are taken from promotional materials supplied by the publisher, unless otherwise noted.
Alan Shapiro reads Sickbed
Sickbed

There were two voices in the fever dream:
Hers speaking from another room, and theirs,
The teenyboppers', singing from the screen.

Hers spoke a litany of grievous thanks,
And thankful worries, who did what to whom,
And why, and thank God it wasn't worse, poor bastard,

Poor thing, while theirs kept singing who wears short
Shorts, we wear short shorts, over and over
Till I was singing too. Someone, thank God, at last,

Was out of it, and someone else, thank God,
Had only lost a breast, and Shirley what
A good kid, what a beauty, what a doll,

She let herself go when the bum walked out.
Thank God they never had a child. Thank God
They smelled the smoke; they found the keys, the dog.

Thank God they all wore short shorts as they sang
To me on little stages on the stage
Where boys and girls were dancing all around them,

Singing and dancing where it wasn't worse,
Thank God, and, thank God, no one paused to wonder
Who to thank for just how bad it was.

From Night of the Republic by Alan Shapiro
© 2012 by Alan Shapiro
More about Alan Shapiro
The following are links to other Web sites with information about poet Alan Shapiro. (Note: All links to external Web sites open in a new browser window.)
Have you read Night of the Republic by Alan Shapiro? Add your comments to this page and let us know what you think.
Photo credit: Callie Warner