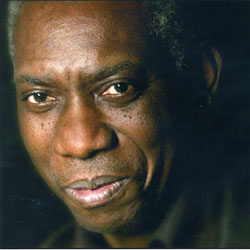 Biography
Yusef Komunyakaa's 13 books of poems include Warhorses (2008), Taboo (2004), and Neon Vernacular: New and Selected Poems, for which he received the Pulitzer Prize. He teaches at New York University.
Judges' Citation
"Alter egos, second selves figure largely in Komunyakaa's new poetry collection, The Chameleon Couch. In The Hedonist, successive masks are donned and discarded to feed the speaker's voracious appetite for experience, as throughout the book, personae are adopted – The Window Dresser, Adonis, Orpheus, the Ten or Eleven Disguises, a Mr. Decoy – to bear witness to the continual bartering of good and evil that comprise the fallen mythic world of the book's vision. Both speaking from direct experience and with the collective scrutiny of our shared civilization, where ages and cultures overlap, in the 'scuffle / between gods and human shadows,' the poems roam contemporary streets to the edges of crumbling empires, where the restless ghosts of history still linger on the corner. Beneath these masks, and central to the success of these poems, is Komunyakaa's singular voice: curious, doubtful, stubborn, damning and self-accusing, asserting itself against the never-tiring devastation wrought by history, its testimony 'good as making a wager against the eternal hush.'"
Summary
This latest collection from Yusef Komunyakaa is one of his most personal to date. As in his breakthrough work Copacetic, Komunyakaa writes of music as muse – from a Blues club in the East Village to the Shakuhachi of Basho. Beginning with Canticle, this varied new collection often returns to the idea of poem-as-hymn, ethereal and haunting, as Komunyakaa reveals glimpses of memory, myth and violence. With contemplations that spring up along walks or memories conjured by the rhythms of New York, more than ever Komunyakaa pays tribute to those who came before him.
Note: Summaries are taken from promotional materials supplied by the publisher, unless otherwise noted.
Yusef Komunyakaa reads Memory of the Murdered Professors at the Jagiellonian
Memory of the Murdered Professors at the Jagiellonian

– AFTER HASIOR

They fired a bullet into the head
of each question, trying to kill Kant's
unending argument with Hegel.
The burned laws, moral codes,
& the Gold Mean. Anyone
serving tea & cookies to Death,
looking or acting as if he knew love,
stood before the firing squad.
All questions had to go. Pronoun
or noun. If it crawled on busted kneecaps,
whimpering & begging for mercy,
it was still half of a question.

■

The little skyscraper of glass boxes
sunlight strikes the same time of day
at a certain angle outside Zakopane
looks like condos where nimble ghosts
still stand up to the darkest answers.
No, I can't hear one voice pleading.
But I do hear gusts coming down
from the hills. No, you're wrong again.
The crow perched on the totem is real.
Look at how the light lifts off its wings,
but I wish I could understand what it is
he's trying to say. I think I heard a name.

From The Chameleon Couch, by Yusef Komunyakaa
© 2011 by Yusef Komunyakaa
More about Yusef Komunyakaa
The following are links to other Web sites with information about poet Yusef Komunyakaa. (Note: All links to external Web sites open in a new browser window.)
Have you read The Chameleon Couch by Yusef Komunyakaa? Add your comments to this page and let us know what you think.
Photo credit: Tom Wallace