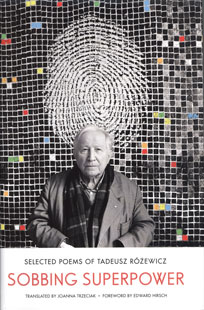 Biographies
Joanna Trzeciak's translations include Miracle Fair: Selected Poems of Wislawa Szymborska, winner of the Heldt Translation Prize. She lives in Cleveland, Ohio.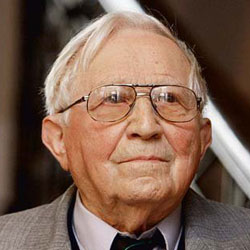 Tadeusz Różewicz was born in Radomsko, Poland, in 1921. During the Nazi occupation he joined the Polish resistance. Following the war, at the age of 26, he published his first collection of poems, Anxiety, which was received as the work of a major poet and redefined poetry after the Holocaust. A prolific poet and major playwright, Rózewicz lived for most of his life in Wroclaw, Poland, where he died on April 24, 2014. Polskie Radio pays tribute to him here.
Judges' Citation
"Hearts can smart, and kindnesses be minded. Sobbing Superpower's world-class document, compellingly assembled by Joanna Trzeciak, gives us an EKG-cum-EEG for an entire era – its double helix inscribed by that most sensitive device: a soul the equal of the world's occasion. A second global war had cast its blooming shade abroad, when Różewicz's carouseling lovers sang, on fabulous beast-back, in scarlet carnivale: 'let us adjust the paper ribbons and wreaths / crouch down: let hip touch hip / your thighs are alive / let us flee let us flee.' But Różewicz is himself too alive to history's evidence to pass off life and death as mutually exclusive: 'Man is killed just like an animal / I've seen: / truckloads of chopped up people … // Concepts are only words: / … / truth and lie / beauty and ugliness / courage and cowardice. // … / I've seen: / a man-both / vicious and virtuous.' The etymological job of the skeptic: to keep an eye on things. Różewicz is that rare character – skeptic as full of passion as of intelligence, of warmth as wariness. Thanks to Trzeciak's deft, deferential translation, English readers see his place among stars of his Central-European generation – Herbert, Szymborska, Popa, Holub – poets who illustrate the power of a single plainsong to be heard over milling mobs; one sensibility to outweigh hours of broadcast nonsense; one oddball to resist the prefixed troopers; one poem's power to outlast the props of all sub-supers, super-subs. Over 60 years, with grand themes but plain speech, with mortal passion but Heraclitic judgment, in torment and in tenderness, Różewicz proves as wary of philosophy's bureaucracy as government's; as wary of heaven's offices as man's. Alert to our condition's own momentous momentariness, he's funny, fierce, or casual; but never inconsequential."
Summary
Trzeciak's stripped-down translation (as her foreword explains) tries to convey both Różewicz's plain speech and his frequently intricate allusion to writers and works from Polish, German, Russian, and English, among them Franz Kafka and Ezra Pound. 'Of course I try to write/ light carefree / even with my left foot/ but it's tethered to a stone,' a recent poem complains in a poetry able to incorporate almost anything, from headlines to the simplest sentences a child might say, which a disillusioned adult might need to hear again: 'this is a man/ this is a tree this is bread// people eat to live.'
Note: Summaries are taken from promotional materials supplied by the publisher, unless otherwise noted.
Joanna Trzeciak reads The Story of Old Women from her translation of Sobbing Superpower: Selected Poems of Tadeusz Rosewicz
The Story of Old Women

I like old women
ugly women
mean women

they are the salt of the earth

they are not disgusted by
human waste

they know the flipside
of the coin
of love
of faith

dictators clown around
come and go
hands stained
with human blood

old women get up at dawn
buy meat fruit bread
clean cook
stand on the street
arms folded silent

old women
are immortal

Hamlet flails in a snare
Faust plays a base and comic role
Raskolnikov strikes with an axe

old women
are indestructible
they smile knowingly

god dies
old women get up as usual
at dawn they buy bread wine fish
civilization dies
old women get up at dawn
open the windows
cart away waste
man dies
old women
wash the corpse
bury the dead
plant flowers
on graves

I like old women
ugly women
mean women

they believe in eternal life
they are the salt of the earth
the bark of a tree
the timid eyes of animals

cowardice and bravery
greatness and smallness
they see in their proper proportions
commensurate with the demands
of everyday life
their sons discover America
perish at Thermopylae
die on the cross

conquer the cosmos

old women leave at dawn
for the city to buy milk bread meat
season the soup
open the windows

only fools laugh
at old women
ugly women
mean women

because these beautiful women
kind women
old women
are like an ovum
a mystery devoid of mystery
a sphere that rolls on

old women
are mummies
of sacred cats

they're either small
withered
dry springs
dried fruit
or fat
round buddhas

and when they die
a tear rolls down
a cheek
and joins
a smile on the face
of a young woman

From Sobbing Superpower: Selected Poems of Tadeusz Różewicz, translated by Joanna Trzeciak
English translation copyright © 2011 by Joanna Trzeciak
More about Joanna Trzeciak and Tadeusz Różewicz
The following are links to other Web sites with information about translator Joanna Trzeciak and poet Tadeusz Różewicz. (Note: All links to external Web sites open in a new browser window.)
Have you read Sobbing Superpower: Selected Poems by Tadeusz Różewicz, translated by Joanna Trzeciak? Add your comments to this page and let us know what you think.
Photo credits:
Joanna Trzeciak, by Daniel Levin
Tadeusz Rosewicz, by Pawel Koziol, Agencja Gazeta