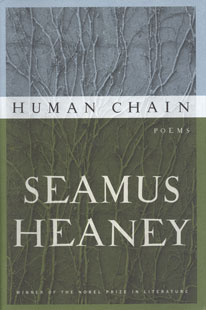 Book: Human Chain
Poet: Seamus Heaney
Publisher: Farrar, Straus and Giroux
Biography
Seamus Heaney was born in Northern Ireland. Death of a Naturalist, his first collection, appeared in 1966, and since then he has published poetry, criticism, and translations that have established him as one of the leading poets of his generation. He has twice won the Whitbread Book of the Year award, for The Spirit Level (1996) and Beowulf (1999). In 1995 he was awarded the Nobel Prize in Literature. District and Circle, his eleventh collection of poems, was published in 2006 and was awarded the T. S. Eliot Prize.
The Griffin Trust For Excellence in Poetry presented its Lifetime Recognition Award to Seamus Heaney on June 6, 2012.
Seamus Heaney died on August 30, 2013. We offered our tribute and collected selections from the heartfelt words of many others here.
Judges Citation
"The poems in Seamus Heaney's Human Chain contain tones and phrases that are perfectly tuned; they are true to memory and loss, and somehow miraculously they also manage to offer a vision of what is above or beyond the mere facts. The feeling is elegiac but also loosened and buoyant. Memory in these poems is filled with tones of regret and undertones of anguish, but it can also appear in cadences of hard-won wonder. There is an active urge in the rhythms of these poems to capture the living breath of things; sometimes the breath is hushed, and other times wise and resigned in its way of holding rhythms in and then releasing them. In the most ambitious poem, Heaney wanders in the shadow of Virgil's Aeneid, making his own journey in memory across Northern Ireland, allowing images and recollections in all their sonorous beauty to hit sharply against the sense of a time that has past, and can be recovered now in ways which are controlled but insistent in these poems."
Summary
Seamus Heaneys new collection elicits continuities and solidarities – between husband and wife, child and parent, then and now – inside an intently remembered present: the stepping stones of the day, the weight and heft of what is passed from hand to hand, lifted and lowered. Human Chain also broaches larger questions of transmission, of lifelines to the inherited past.
Note: Summaries are taken from promotional materials supplied by the publisher, unless otherwise noted.
Robin Robertson reads A Kite for Aibhín, by Seamus Heaney
A Kite for Aibhín, by Seamus Heaney
A Kite for Aibhín

AFTER "L'AQUILONE" BY GIOVANNI PASCOLI (1855-1912)

Air from another life and time and place,
Pale blue heavenly air is supporting
A white wing beating high against the breeze,

And yes, it is a kite! As when one afternoon
All of us trooped out
Among the briar hedges and stripped thorn,

I take my stand again, halt opposite
Anahorish Hill to scan the blue,
Back in that field to launch our long-tailed comet.

And now it hovers, tugs, veers, dives askew,
Lifts itself, goes with the wind until
It rises to loud cheers from us below.

Rises, and my hand is like a spindle
Unspooling, the kite a thin-stemmed flower
Climbing and carrying, carrying farther, higher

The longing in the breast and planted feet
And gazing face and heart of the kite flier
Until string breaks and – separate, elate –

The kite takes off, itself alone, a windfall.

From Human Chain, by Seamus Heaney
Copyright © 2010 by Seamus Heaney
More about Seamus Heaney
The following are links to other Web sites with information about poet Seamus Heaney. (Note: All links to external Web sites open in a new browser window.)
Have you read Human Chain by Seamus Heaney? Add your comments to this page and let us know what you think.
Photo credit: Jemima Kuhfeld