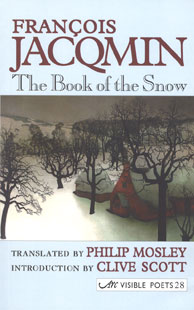 Book: The Book of the Snow
Translator: Philip Mosley
Poet: François Jacqmin
Publisher: Arc Publications
Biographies
Philip Mosley is Professor of English and Comparative Literature at Pennsylvania State University. He earned his M.A. in European literature and his Ph.D. in comparative literature from the University of East Anglia. He has translated The Intelligence of Flowers by Maurice Maeterlinck, Bruges-la-Morte by Georges Rodenbach, Tea Masters, Teahouses by Werner Lambersy, and October Long Sunday by Guy Vaes. In 2008 he was awarded the Prix de la Traduction Littéraire by the French Community of Belgium for his translations of Belgian authors into English.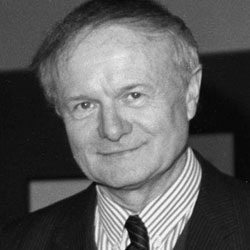 François Jacqmin, acknowledged as one of the foremost francophone Belgian poets of the latter half of the twentieth century, was born in 1929 in Horion-Hozémont in the province of Liège. In 1940 his family fled to England to escape the German occupation. He returned to Belgium in 1948 and rediscovered his native language and literature. His three major volumes of poetry are Les Saisons (1979), Le Domino gris (1984), and Le Livre de la neige (1990). Eléments de géométrie, a volume of prose poems written a few years before his death in 1992, was published in 2005.
Judges' Citation
"Francois Jacqmin's The Book of the Snow displays a poetry which is pure, abstract and uncompromising, but also deeply felt, utterly precise, attuned to the complexity of the world. It takes the language of philosophy, of speculation and meditation, and adds to it a rich calm cadence; every image has a real and exact value. The short poems are surrounded with terms which seem to gesture towards saying something which is true and towards something else which is beyond mere truth. The central paradox of Jacqmin's poetry is the human mind's need to speak played against a profound suspicion of language. The unmarked snowy fields, the mind before thought, the blank silence that underlies all human expression – these are the slates on which these poems form and disintegrate. The poems in Philip Mosley's translation are thus filled with a mysterious beauty; they have a sort of shimmering quality.They are poems filled with both the world's weather and a weather which belongs to language purely and exquisitely shaped and sculpted."
Summary
An intriguing set of short, deceptively simple poems, The Book of the Snow meditates on the austere beauty and elemental power of the midwinter scene. It is also a subtle, witty, occasionally savage critique of our philosophical and artistic complacency. Mosley's beautifully modulated translation of the last collection to be published in the poet's lifetime, makes available to English-language readers for the first time the work of one of Belgium's foremost francophone poets of the twentieth century.
Note: Summaries are taken from promotional materials supplied by the publisher, unless otherwise noted.
Philip Mosley reads from his translation of The Book of the Snow by François Jacqmin
The Book of the Snow by François Jacqmin, translated by Philip Mosley
From The Book of the Snow

Hounded by the night, the snow pushed the door
and advanced to the heart of the abode.
It penetrated
like those gentle convictions you have
in dreams.
Then it sat down in the middle of the hearth.
Installed in the fold of the flames,
it contemplated
my thoughts. It was tired of its whiteness,
and awaited my compassionate shadow.

---

Traquée par la nuit, la neige poussa la porte,
et avança jusqu'au coeur du logis
Elle pénétrait
comme ces convictions douces que l'on a
en rêvant.
Puis, elle s'est assise au mileu de l'âtre.
Installée dans le giron des flames,
elle contemplait
mes songes. Elle était lasse de sa blancheur,
et attendait mon ombre compatissante.

---

The snow is everywhere, and its softness drives
the sacred orators to despair.
There is no longer a single spot for you
to place a metaphor.
Its art
is so pure that it begets not the pain
of a conviction.
The hearing is its word. It is in the endless belfry
of its whiteness
that my finest understatements ring out.

---

La neige est partout, et sa douceur désespère
les orateurs sacrés.
Il n'est plus un seul lieu où l'on puisse
placer une métaphore.
Son art
est si pur qu'il n'engendre pas la souffrance
d'une conviction.
L'ouïe est son verbe. C'est dans le clocher sans fin
de sa blancheur
que tintent mes plus beaux sous-entendus.

From The Book of the Snow, by François Jacqmin, translated by Philip Mosley
Original poems copyright © Editions de la Difference 1990
Translation copyright © Philip Mosley 2010
Introduction copyright © Clive Scott 2010
More about Philip Mosley and François Jacqmin
The following are links to other Web sites with information about translator Philip Mosley and poet François Jacqmin. (Note: All links to external Web sites open in a new browser window.)
Have you read The Book of the Snow by François Jacqmin, translated by Philip Mosley? Add your comments to this page and let us know what you think.