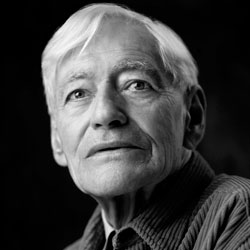 Biography
Robin Blaser is one of North America's most outstanding poets of the postwar period, having emerged from the Berkeley Renaissance of the 1940s and 1950s as a central figure in that burgeoning literary scene. He is Professor Emeritus at Simon Fraser University and has published several books of poems and numerous essays, many of which are included in The Fire: Collected Essays of Robin Blaser (University of California Press, 2006). Blaser established himself as a key figure on the west coast of British Columbia and an important influence among Canadian experimental poets such as George Bowering, Steve McCaffery, bp Nichol, Erín Moure and Daphne Marlatt. Blaser also penned an English and Latin opera libretto entitled The Last Supper. On May 31st, 2006, the legendary poet was honoured with The Griffin Trust for Excellence in Poetry's first Lifetime Recognition Award.
The Griffin Trust notes with great sadness that Robin Blaser died in May, 2009. Numerous moving tributes to him and his work have been published, and we have linked to some of them from here.
Judges' Citation
"There is an irony in the presumption that the universe contains the 'collected' poems of Robin Blaser. Within the five hundred pages of The Holy Forest moves a lifetime's thought such as we are not used to or prepared for. Whitman was not fooling when he said that a poet, an extraordinary poet, can himself be a cosmos. But as sidereal as Blaser's lines become, we never forget that the purpose is human living every day inside what is. In a review of an earlier volume with the same title (bravely published in Canada by Coach House and later listed by Talonbooks), Brian Fawcett wrote: 'His truest poetic instinct is that cosmology is at once humanity's fundamental pursuit – and the source of our most screamingly funny ironies, misapprehensions and pratfalls.' Blaser is solemn enough to approach Dante Alighieri as a 'Great Companion,' and serious enough to maintain that 'the truth is laughter' we might find some afternoon on the darkest pavement."
Summary
The Holy Forest, now spanning five decades, is Blaser's highly acclaimed lifelong serial poem. This long-awaited revised and expanded edition includes numerous published volumes of verse, the ongoing 'Image-Nation' and 'Truth Is Laughter' series and new work from 1994 to 2004. Blaser's passion for word making draws inspiration from the major poets and philosophers of our time – from friends and peers such as Robert Duncan, Jack Spicer and Steve McCaffery to virtual companions in thought such as Hannah Arendt, Michel Foucault and Jacques Derrida, among others. This comprehensive compilation of Blaser's prophetic meditations on the histories, theories, emotions, experiments, and countermemories of the late twentieth century will stand as the definitive collection of his unique and luminous poetic oeuvre.
Note: Summaries are taken from promotional materials supplied by the publisher, unless otherwise noted.
Robin Blaser reads Image-Nation 21 (territory
Image-Nation 21 (territory, by Robin Blaser
Image-Nation 21 (territory

wandering to the other, wandering
the spiritual realities, skilled in all
ways of contending, he did not search
out death or courage, did not
found something, a country,
or end it, but made it endless,
that is his claim to fame, to
seek out what is beyond any single
man or woman, or the multiples
of them the magic country that
is homeland

the bridges I strained for, strings
of my vastness in language, and
the cars rushed by in both
directions flashing at one another

the mechanic of splendour, sought
after, chanted in the windy
cables and the river sailed,
haphazard, under the solitude

he had only the stories to tell, naked
and plotless, the spiritual territories,
earth-images and sky-maps, dark
at the edges

the mechanic of the marvelous dreamed
of Stalin and Hitler and the ordinary,
endlessly knew where he had gone
and, then, came back, whatever happens
if, I said – I was talking to religionists –
you gain social justice,
solve the whole terror, then where
is god? certainly not in happiness
and since god is not in unhappiness,
there you have it the skilled
adventure in hostilities with no name

From The Holy Forest: Collected Poems of Robin Blaser, by Robin Blaser
Copyright © 2006 The Regents of the University of California
More about Robin Blaser
The following are links to other Web sites with information about poet Robin Blaser. (Note: All links to external Web sites open in a new browser window.)
Have you read The Holy Forest: Collected Poems of Robin Blaser? Add your comments to this page and let us know what you think.
Photo credit: Joy von Tiedemann