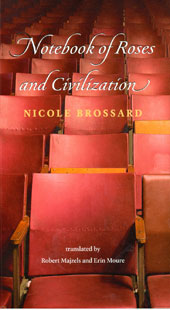 Biographies
Robert Majzels is a translator and writer of poems, plays and novels, most recently Apikoros Sleuth (Mercury Press, 2004). Born in Montreal, Quebec, Majzels has worked as a lathe operator in a steel plant, a taxi driver, a hospital orderly and an insurance appraiser. In 1986, he graduated with an MA in English Literature from Concordia University where he subsequently taught creative writing for 13 years. From 2000 to 2002, Majzels lived and studied Chinese in Beijing, China. He won a Governor General's Literary Award for French to English translation for Just Fine, from the French Pas Pire by France Daigle. Majzels' play This Night the Kapo won first prize in the Dorothy Silver Playwright's Award in 1991 and first prize in the Canadian Jewish Playwriting Competition in 1994. Robert Majzels currently teaches at the University of Calgary.
Erín Moure is an award-winning poet and translator with more than 15 books to her credit. Originally from Calgary, Moure wrote her first collections of poetry in Vancouver – Empire; York Street, which was nominated for the Governor General's Literary Award for Poetry in 1979; Wanted Alive; and Domestic Fuel, which won the 1985 Pat Lowther Prize. Her 1988 work Furious won the Governor General's Literary Award for Poetry. She was twice shortlisted for the Griffin Poetry Prize: in 2002 for Sheep's Vigil by a Fervent Person and in 2006 for Little Theatres. The latter work won the A.M. Klein Prize for Poetry in 2005. She has also published four chapbooks: The Whisky Vigil, Excess, Visible Spectrum, and Search Procedures, or Lake This. Her most recent collection is O Cadoiro. Erín Moure works as a freelance editor and communications specialist in Montreal.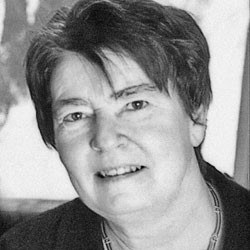 Nicole Brossard was born in Montreal in 1943. Since 1965 she has published more than 30 books, including Museum of Bone and Water, The Aerial Letter and Mauve Desert. Brossard has twice been awarded the Governor General's Literary Award for Poetry, first in 1974 and again ten years later. In 1965, she co-founded the literary periodical La barre du jour and, in 1976, the feminist journal Les têtes de pioche. That same year, she co-directed the movie Some American Feminists. In 1991, Brossard collaborated with Lisette Girouard on an anthology of women's poetry from Quebec entitled Des origines à nos jours which was awarded the Prix Athanase-David, Quebec's highest literary distinction. In 2003, she received the W.O. Mitchell Literary Prize for mentorship. Her books have been translated into English, Spanish and Japanese. Brossard's most recent novel is Yesterday, at the Hotel Clarendon.
In April 2019, Nicole Brossard was announced as the 2019 Griffin Lifetime Recognition Award recipient.
Judges' Citation
"Over her four decades of writing and publishing poems and novels and essays-textes, Nicole Brossard has always shone an investigative light on every word that comes to her, and turned a demanding ear to each item of punctuation or notation. She sees the universe in the word for sand, and knows that it could be sable mouvant. So the translators of Nicole Brossard have to make poems we will love to read the way a carpenter loves a finished table. Majzels and Moure are not masters but divine servants of the English words they so carefully bring over to us. Inventive writers themselves, they are practiced translators who have here taken on a daunting project and succeeded beautifully."
Summary
The heat of summer on an earlobe, a parking meter, the shadow of crabs and pigeons under a cherry tree, an olive, a shoulder blade – in the poems of Nicole Brossard these concrete, quotidian things move languorously through the senses to find a place beyond language. Taken together, they create an audacious new architecture of meaning.
Note: Summaries are taken from promotional materials supplied by the publisher, unless otherwise noted.
Robert Majzels, Erin Moure and Nicole Brossard read Soft Link 3
Soft Link 3, Robert Majzels and Erin Moure translating from Nicole Brossard
Soft Link 3

It's names of places, cities, climates that haunt. Characters. Clear mornings, a fine rain that falls all day, rare images from elsewhere and America, two natural disasters that make us close ranks amid corpses, it's quiet or violet acts, mortars, ice cubes in glasses at cocktail hour, noise of dishes or a slight stutter that momentarily torments, a slap, kiss, it's names of cities like Venice or Reading, Tongue and Pueblo, names of characters Fabrice Laure or Emma. Words honed over years and novels, words we spoke with halting breath laughing spitting sucking an olive, verbs we add to the pleasure of lips, to success, to sure death. It's words like cheek or knee and still others further than we can see that leave us teetering on the edge of the abyss, to stretch like cats in morning it's words that keep us up till dawn or make us flag down a cab on a weekday night when the city's asleep before midnight and solitude is caught like an abscess in the jaw. It's words spoken from memory, in envy or pride often words uttered with love while layhing our hands behind the head or pouring a glass of port. It's words whose etymology must be sought, then projected on a wall of sound so the cries of pain and sighs of pleasure that wander in dreams and documents lay siege to the mysterious darkness of the heart. It's words like bay, hill, wadi, via, rue, strada, dispersed through the dictionary between flamboyancies and neons, burial mounds and forests. It's words of the arms of the sea, ensembles of sense that claw or soft at our chests, cold shivers rivulets and fear abrupt in the back while we try to fissure the smooth time of the future with trenchant quotations. It's words that swallow fire and life, who knows now if they're Latin French Italian Sanskrit Mandarin Galician Arab or English, if they conceal a number an animal or old anguishes impatient to shoot up before our very eyes like cloned shadows replete with light and great myths.

From Notebook of Roses and Civilization
English translation copyright © Robert Majzels and Erin Moure, 2007
More about Robert Majzels, Erin Moure and Nicole Brossard
The following are links to other Web sites with information about poets and translators Robert Majzels, Erin Moure and Nicole Brossard. (Note: All links to external Web sites open in a new browser window.)
Have you read Notebook of Roses and Civilization? Add your comments to this page and let us know what you think.
Photo credit: Erin Moure, by Terence Byrnes