Biography
John Ashbery was born in Rochester, New York in 1927. Best known as a poet, he is the author of over 20 books of poetry including Some Trees, which was selected by W.H. Auden for the Yale Younger Poets Series and Self-Portrait in a Convex Mirror, which received the Pulitzer Prize for Poetry, the National Book Critics Circle Award and the National Book Award. He has served as executive editor of ARTnews magazine and as the art critic for New York and Newsweek magazines. A member of the American Academy of Arts and Letters and the American Academy of Arts and Sciences, Ashbery served as Chancellor of the Academy of American Poets from 1988 to 1999. He has received two Guggenheim Fellowships and was a MacArthur Fellow from 1985 to 1990. His work has been translated into more than 20 languages. John Ashbery lives in New York.
Judges' Citation
"The pleasure of reading John Ashbery's poetry defies explanation. The YOU the author makes reference to is ME, the transcription being rendered, paradoxically, by a poet who eschews autobiography; thus the I as well as the YOU names the reader. Ashbery's is one of the best and most intense poetry productions of the twentieth century. Its famous difficulty does not repel: it invites. It offers a 'site of survival,' a real mirror for human beings today, providing a place of honour and dignity for the very personal and secret hidden in everyone. His poems reach the private part of each individual. No wonder he has declared in interviews that he's 'like everybody else' – the body breathing inside the poem is as much himself as ourselves. But the person who knows how to observe and therefore how to be unique is John Ashbery, ungraspable, inexplicable and as mysterious as the Delphic oracle. In Notes from the Air, Ashbery has taken the opportunity provided a long-living poet not to collect but to select what in his opinion constitutes the best part of his later production. These 'notes' proceeding from the air or written by it honour the defining economy of poetry, unique lexical territory where one cannot go against the plurality of meaning embodied in words. He grants unity to this volume by sequencing poems deftly linked, forged with the delicateness of time, its overwhelming theme. The vigilant eye cast on this selection is omnipresent, and does not let a single detail go loose. With this personal organization of the most meaningful part of his work, Ashbery offers a new way of reading it, testing language by virtue of the American tongue, making it a true 'remnant of energy' for which only the poet can take responsibility."
Summary
This collection reveals, for the first time in one volume, the remarkable evolution of Ashbery's poetry from the mid-1980s to the present, and offers an irresistible sampling of some of the finest work by a poet The New York Times Book Review called a 'national treasure'. This long-awaited volume, a new selection of his later poems, spans ten major collections by this most visionary and influential poet. Chosen by the author himself, the poems herein represent Ashbery's best work from the past two decades, from the critically acclaimed April Galleons and Flow Chart to the 2005 National Book Award finalist Where Shall I Wander.
Note: Summaries are taken from promotional materials supplied by the publisher, unless otherwise noted.
John Ashbery reads Interesting People of Newfoundland
Interesting People of Newfoundland, by John Ashbery
Interesting People of Newfoundland

Newfoundland is, or was, full of interesting people.
Like Larry, who would make a fool of himself on street corners
for a nickel. There was the Russian who called himself
the Grand Duke, and who was said to be a real duke from somewhere,
and the woman who frequently accompanied him on his rounds.
Doc Hanks, the sawbones, was a real good surgeon
when he wasn't completely drunk, which was most of the time.
When only half drunk he could perform decent cranial surgery.
There was the blind man who never said anything
but produced spectral sounds on a musical saw.

There was Walsh's, with its fancy grocery department.
What a treat when Mother or Father
would take us down there, skidding over slippery snow
and ice, to be rewarded with a rare fig from somewhere.
They had teas from every country you could imagine
and hard little cakes from Scotland, rare sherries
and Madeiras to reward the aunts and uncles who came dancing.
On summer evenings in the eternal light it was a joy
just to be there and think. We took long rides
into the countryside, but were always stopped by some bog or other.
Then it was time to return home, which was OK with everybody,
each of them having discovered he or she could use a little shuteye.

In short there was a higher per capita percentage of interesting people
there than almost anywhere on earth, but the population was small,
which meant not too many interesting people. But for all that
we loved each other and had interesting times
picking each other's brain and drying nets on the wooden docks.
Always some more of us would come along. It is in the place
in the world in complete beauty, as none can gainsay,
I declare, and strong frontiers to collide with.

Worship of the chthonic powers may well happen there
but is seldom in evidence. We loved that too,
as we were a part of all that happened there, the evil and the good
and all the shades in between, happy to pipe up at roll call
or compete in the spelling bees. It was too much of a good thing
but at least it's over now. They are making a pageant out of it,
one of them told me. It's coming to a theater near you.

From Notes From the Air, by John Ashbery
Copyright © 2007 by John Ashbery
More about John Ashbery
The following are links to other Web sites with information about poet John Ashbery. (Note: All links to external Web sites open in a new browser window.)
Have you read Notes from the Air: Selected Later Poems by John Ashbery? Add your comments to this page and let us know what you think.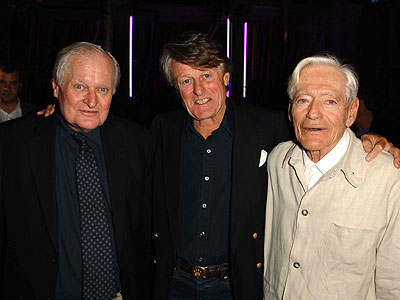 Scott Griffin proudly presented the 2008 Griffin Poetry Prize winners, John Ashbery and Robin Blaser, on June 4, 2008.
The Griffin Trust For Excellence In Poetry was deeply saddened to learn of the passing of American poetry giant John Ashbery on September 3, 2017 at the age of 90. Among his countless distinctions, Ashbery won the 2008 Griffin Poetry Prize for his collection Notes From the Air: Selected Later Poems. The Griffin Trust was thrilled to welcome him for the shortlist readings and awards celebrations that year.
As Paul Muldoon observed, "John Ashbery is almost certainly the last American poet about whom there is anything approaching consensus. His greatness is accepted by both sides of the house …" Wonderful tributes, capturing well how his work fascinated and touched a wide range of artists and readers, have appeared in a wide range of publications, streaming through social media channels with heartfelt selections from his poetry and essays. Here are some comprehensive and moving selections:
Photo credits:
John Ashbery by Lynn Davis
John Ashbery, Scott Griffin and Robin Blaser by Tom Sandler