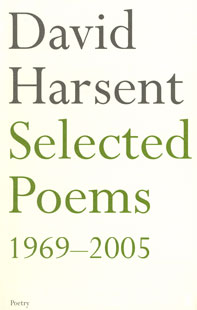 Biography
David Harsent was born in 1942 in Devonshire. He has published nine collections of poetry, including Legion which won the 2005 Forward Poetry Prize and was shortlisted for the 2005 T. S. Eliot Prize and the 2005 Whitbread Poetry Award. His poetry includes versions of the work of Bosnian poet Goran Simic, notably Sprinting from the Graveyard (1997), poems written during the siege of Sarajevo. He was co-editor, with Mario Susko, of Savremena Britanska Poezija (1988). His work in musical theatre has involved collaborations with a number of composers, but most often with Harrison Birtwistle, and has been performed at the Royal Opera House, Carnegie Hall, the South Bank Centre, the Proms, the Megaron (Athens), and on BBC2 and Channel 4 TV. His libretti include Serenade the Sikie for the Prussia Cove Festival in 1994 and When She Died for Tiger Aspect and Channel 4 television in 2002. He writes crime fiction under a pseudonym and has written a number of screenplays and television dramas. David Harsent was appointed Distinguished Writing Fellow at Sheffield Hallam University in 2005, and is a Fellow of the Royal Society of Literature.
Judges' Citation
"The four decades' worth of work spanned by David Harsent's Selected Poems reveal a writer of enormous accomplishment in whom a constant, restless investigation of new forms, new subjects, new ways of putting together a poem or sequence of poems, is underpinned by a remarkably consistent and powerful poetic sensibility. You know, instantly, when you are in a David Harsent poem: the vivid landscapes where the weather shifts as rapidly between inner and outer as it does between bright and menacing; the haunting psychological situations that give you a novel's worth of drama in a few lines; the dense imagery continually opening up the narratives to new levels of suggestion and implication; the controlled riot of language; the intense, fluid musicality. Like the elusive figure of the hare that slips in and out of these poems – a motif borrowed in part from Egyptian writing where it formed the hieroglyph for the auxiliary verb 'to be' – the ultimate quarry of these poems, whether pursued through marriage or war or some more indefinite terrain, is nothing less than existence itself: what it feels like to be alive, human, and of this world. At a time when so many poets are retreating into the sphere of pure language, this unabashed engagement with reality is extraordinarily invigorating."
Summary
Nicholas Wroe, writing in the June 23, 2007 edition of The Guardian said: 'These poems, selected by Harsent himself, take us from A Violent Country, his 1969 debut, to the violent countries of his war-fuelled Forward prize-winning collection, Legion (2005). Harsent's early gift was for the icy observation and resonant image: 'As the train slowed I could see the plant / glimmering in its own steam, / a tangle of pipes and fragile catwalks. / He watched it too, as he told me again / how he saw Italy for the first time / And Africa, like a graveyard.' Harsent displays a '… cool brevity, but it was partly at (poet and editor) Ian Hamilton's suggestion that Harsent's verse opened up to longer lines and the poem sequences Mr Punch (1984), News From the Front (1993) and Marriage (2003), which drew on Bonnard's relationship with his model. By the time of the Legion war poems – 'Then we had iron rain, nine days without break or let' – the terse exactitude still projects a stunning clarity of vision, but has expanded into a wider and deeper wisdom, and this exemplary distillation of a career exerts a formidable potency.'
Note: Summaries are taken from promotional materials supplied by the publisher, unless otherwise noted.
David Harsent reads from "Marriage" XVI
from "Marriage" XVI, by David Harsent
from "Marriage" XVI

I perch on a 'Bauhaus-style' chrome and raffia
stool as you drop your knife and pause to consider
this fish and its fistula,

this fish with its deep deformity, its head like a cosh,
its raw flank and blood-brown eyes,
its lips of lopsided blubber,

this fish we are having for supper.
You laid out cold cash
to have them deliver this fish, close-packed in ice,

a glacier coelacanth preserved against all the odds,
as if some throw of the dice, some coin
turning a thousand years to come down heads,

had brought to the marble slab in our kitchen
of all kitchens this fish, sporting
its jowly truncheon-lump of sorbo rubber

and the great wet ulcer opening beneath its backbone.
As you start again, flensing good from bad, let you spill
a viscous flub of gut that slips

from your wrist to the marble, where it spells
out the hierogram most often linked
with the once in a lifetime, miraculous

descent of the goddess, her gills
crisp enough to cut as you trade kiss for kiss.
Flesh of her flesh. I'll eat it if you will.

From Selected Poems 1969-2005, by David Harsent
Copyright © David Harsent, 2007
More about David Harsent
The following are links to other Web sites with information about poet David Harsent. (Note: All links to external Web sites open in a new browser window.)
Have you read Selected Poems 1969-2005 by David Harsent? Add your comments to this page and let us know what you think.
Photo credit: Simon Harsent