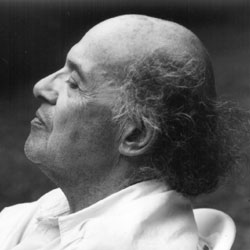 Biography
Gerald Stern is the author of numerous books of poetry, most recently Everything is Burning. Among his many honors are the Lamont Prize, the National Book Award, a Guggenheim fellowship, three NEA awards, a fellowship from the Academy of Arts and Letters, and the Ruth Lilly Prize. Stern taught at the Writers' Workshop at the University of Iowa until his retirement in 1995, and has served as a member of the faculty at Columbia University, New York University, Sarah Lawrence College, and the University of Pittsburgh. Today he lives in New Jersey and continues to write both poetry and prose.
See also: Griffin Trustee Robin Robertson, Griffin Poetry Prize 2004 shortlisted poets Leslie Greentree and David Kirby, and Griffin Poetry Prize 2003 shortlisted poet Gerald Stern were joined by the 2005 Canadian and International winners Roo Borson and Charles Simic on a triumphal tour to the Dublin Writers Festival in June, 2005. Leslie, David and Roo kept a lively blog of the trip, which you can read here.
Judges' Citation
"Gerald Stern's poems are astonishing; they have profound suppleness, tenderness, and power. When we finish one of these American sonnets, we laugh or cry out loud, incredulous. Each one seems to begin in pure freedom, then the last line, like a magnet, turns out to have been pulling the whole poem toward itself with the momentum of history and eros. The work is both intimate and inclusive, and the implied reader seems to be unusually present to the speaker's spirit! The poems are alive with passion and with ironic energy, an irony so in love with the earth it seems to need a new name – milk and honey irony – and yet the tragic knowledge of the world here is hard as iron. This is the great art of a fierce mourning ecstatic, whose genius nourishes us."
Gerald Stern reads Roses
Roses, by Gerald Stern
Roses

There was a rose called Guy de Maupassant,
a carmine pink that smelled like a Granny Smith
and there was another from the seventeenth century
that wept too much and wilted when you looked;
and one that caused tuberculosis, doctors
dug them up, they wore white masks and posted
warnings on the windows. One wet day
it started to hail and pellets the size of snowballs
fell on the roses. It's hard for me to look at
a Duchess of Windsor, it was worn by Franco
and Mussolini, it stabbed Jews; yesterday I bought
six roses from a Haitian on Lower Broadway;
he wrapped them in blue tissue paper, it was
starting to snow and both of us had on the wrong shoes,
though it was wind, he said, not snow that ruined
roses and all you had to do was hold them
against your chest. He had a ring on his pinky
the size of a grape and half his teeth were gone.
So I loved him and spoke to him in false Creole
for which he hugged me and enveloped me
in his camel hair coat with most of the buttons missing,
and we were brothers for life, we swore it in French.

From American Sonnets: Poems, by Gerald Stern
Copyright © Gerald Stern, 2002
More about Gerald Stern
The following are links to other Web sites with information about poet Gerald Stern. (Note: All links to external Web sites open in a new browser window.)
Have you read American Sonnets: Poems by Gerald Stern? Add your comments to this page and let us know what you think.
Photo credit: Martin Desht