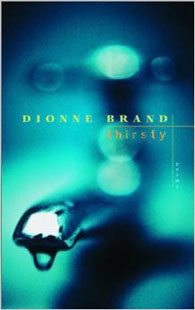 Book: thirsty
Poet: Dionne Brand
Publisher: McClelland & Stewart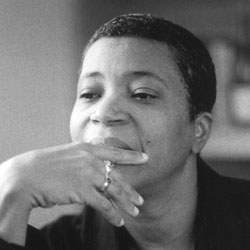 Biography
Dionne Brand won the Governor-General's Award for Poetry and the Trillium Award for Literature in 1997 for Land to Light On, her seventh book of poetry. Her fiction includes the acclaimed novels In Another Place Not Here and At the Full Change of the Moon as well as Sans Souci and Other Stories. Her most recent non-fiction book, A Map to the Door of No Return, was published by Doubleday Canada. Her Griffin-shortlisted book of poetry, thirsty, has won the Pat Lowther Memorial Award from the League of Canadian Poets and is also nominated for the Trillium Book Award. Her newest novel, What We All Long For, was released to critical acclaim in early 2005, and won the 2006 City of Toronto Book Award. Brand was recently recognized with the $10,000 (Cdn) Harbourfront Festival Prize, which honours an individual who has made a significant contribution to the Canadian literary community. Her most recent book of poetry, Inventory, was nominated for the 2006 Governor-General's Award for Poetry and is shortlisted for the Pat Lowther Award.
In addition to her literary accomplishments, Trinidad-born Brand has directed four documentary films for the National Film Board of Canada, focusing on Black women artists and activists. Brand has lectured and/or been writer-in-residence at Toronto's York University, Simon Fraser University in Burnaby, B.C., Guelph University and Malaspina University-College in Nanaimo, B.C.
In September, 2009, Brand was named the poet laureate of Toronto for a three-year term.
Judges' Citation
"The word 'thirsty' in Dionne Brand's long poem is a dying man's last utterance. Shot by the police in his own front yard, Alan is a Christie Pits Jeremiah as well as a tender nurturer of plants, an immigrant and a dreamer who thirsts for 'a calming loving spot' among the 'conditional places' and 'conditional sentences' that perpetuate the marginalisation of the poor. Thirsty is a reckoning with the pretenses of community in the soul-withering environments of today's mega-cities. But Brand's luscious and ferocious lines go beyond a critique of dystopian realities to construct, in themselves, in their keen, lyric intelligence, an oasis of truth, compassion, and sensuality."
Dionne Brand reads from thirsty
From thirsty, by Dionne Brand
From thirsty

This city is beauty
unbreakable and amorous as eyelids,
in the streets, pressed with fierce departures,
submerged landings,
I am innocent as thresholds
and smashed night birds, lovesick,
as empty elevators

let me declare doorways,
corners, pursuit, let me say
standing here in eyelashes, in
invisible breasts, in the shrinking lake
in the tiny shops of untrue recollections,
the brittle, gnawed life we live,
I am held, and held

the touch of everything blushes me,
pigeons and wrecked boys,
half-dead hours, blind musicians,
inconclusive women in bruised dresses
even the habitual grey-suited men with terrible
briefcases, how come, how come
I anticipate nothing as intimate as history

would I have had a different life
failing this embrace with broken things,
iridescent veins, ecstatic bullets, small cracks
in the brain, would I know these particular facts,
how a phrase scars a cheek, how water
dries love out, this, a thought as casual
as any second eviscerates a breath

and this, we meet in careless intervals,
in coffee bars, gas stations, in prosthetic
conversations, lotteries, untranslatable
mouths, in versions of what we may be,
a tremor of the hand in the realization
of endings, a glancing blow of tears
on skin, the keen dismissal in speed

From thirsty, by Dionne Brand
Copyright © Dionne Brand, 2002
More about Dionne Brand
The following are links to other Web sites with information about poet Dionne Brand. (Note: All links to external Web sites open in a new browser window.)
Have you read thirsty by Dionne Brand? Add your comments to this page and let us know what you think.
Photo credit: Neil Graham