Book: Quarrels
Poet: Eve Joseph
Publisher: Anvil Press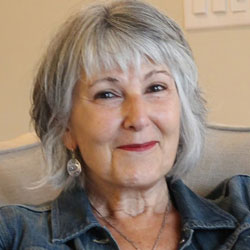 Biography
Eve Joseph's two previous books of poetry, The Startled Heart (2004) and The Secret Signature of Things (2010) were both nominated for the Dorothy Livesay Award. Her nonfiction book, In the Slender Margin (2014) won the Hubert Evans award for nonfiction. Joseph grew up in North Vancouver, British Columbia, and now lives in Victoria.
Judges' Citation
"In Quarrels, Eve Joseph's delightful collection of prose poems, you enter the marvelous and that is the truth! The poet has surrendered herself to the realm of the illogical, trusting that it has a logic of its own, and the outcome is, indeed, a new music. These poems are intriguing spaces and moments defeating the boundaries of the real, but rest assured, Joseph leads you by the hand with warmth, wit and empathy.
Perhaps these poems are crystallisations of a deeply human, spiritual knowledge, gathered over decades working in a hospice. Joseph's previous book, the exceptional memoir, In the Slender Margin, renders this experience. Certainly, without gravity, poems wouldn't be able to sing. As distillations of life, these poems, with beauty and charm, hold their own credibility: an omnipresent, merely-in-glimpses-tangible marvelousness, miraculously fastened to the pages of a single slender volume that will fit into most pockets and assure magnificent company on any given journey."
Eve Joseph reads from Quarrels
from Quarrels

BEAR WITH ME. I'M TRYING TO SUMMON UP MY FATHER as a whale. There are peoples more adept at this than I am. The Makah, the Nootka, the old whalers of Nantucket. He looks like Lear now – at least the way I imagine the old king. Wispy white hair and sunken cheeks, teeth yellowed like ivory. His eyes, when he opens them, look upon lands he has never seen before. His body fills the canvas sling perfectly. There are holes for his fins and a fine sheen clings to his leathered skin. He lies still as he's moved through the air from bed to chair. Trusting, the way an animal trusts a human to deliver it back to its wild and familiar home.

YOUR LUNGS – THOSE LITTLE SACS YOU'VE CARRIED LIKE a goatherd across the desert – are filling up. You're becoming floodplain, sediment: habitat to great blue heron, osprey and otter. With each breath the tide sweeps in altering the shoreline. Water pours into the moat around the crumbling castle. Bishop's bird, obsessed, runs erratic across the sand. Just as you, obsessed, turn toward your death. When I ask where you are, you point to a dark shape disappearing into the depths and all I can think is: Leviathan behind whose glistening wake one would think the deep had white hair.

THE HORSES, WHEN I FINALLY FIND THEM, IN THE DRY hills near the reservoir, seem to be waiting for me. They don't move or open their eyes. Like old people sleeping in the sun, they know who's come to visit and who has not. I was not allowed to wash or dress your corpse. Nor light a candle in the dark house. There was no raft pushed out to sea and nothing set on fire. The words of the mourning prayer yitgadal v'yitkadash sh'mei raba were indecipherable. This is what I've come to tell the horses. Their ears tilt toward me. The half-circle pencil sweep of their jawlines exactly like the ones in The Sketchbook of Horses. On this dusty hill, a lone vulture circling overhead, their long heads bow in consolation – for I know now, that's what this is.

From Quarrels by Eve Joseph
Copyright © 2018 by Eve Joseph
More about Eve Joseph
The following are links to other Web sites with information about poet Eve Joseph.
Have you read Quarrels by Eve Joseph? Add your comments to this page and let us know what you think.