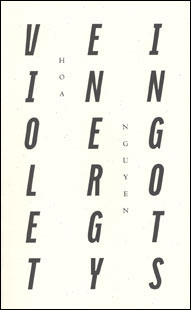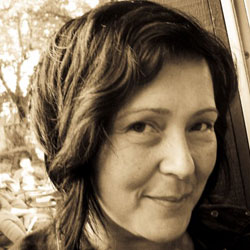 Biography
Born in the Mekong Delta and raised in the Washington, D.C. area, Hoa Nguyen studied Poetics at New College of California in San Francisco. With the poet Dale Smith, Nguyen founded Skanky Possum, a poetry journal and book imprint in Austin, TX, their home for 14 years. She is the author of several poetry collections, including Red Juice: Poems 1998-2008 and As Long As Trees Last. She lives in Toronto, Ontario where she teaches poetics privately and at Ryerson University, Bard College, and Miami University.
Hoa Nguyen is a judge for the 2020 Griffin Poetry Prize.
Judges' Citation
"Hoa Nguyen's poems tread delicately but firmly between the linear demands of narrative and syntax on the one hand and between registers of speech and forms of address on the other. There are spaces for breath, and asides hovering in parentheses. There are also the slippages in language, in the slide from, say 'staring' through 'starving' and 'starring' to 'scarring'. Everything is at once tangential yet surprisingly direct. This is where the pleasure and depth reside: in the off balancing of the language and its pure, uncalculated tone. What are the poems about? Many things, often simple and direct, like food, or sex, or rivers, or sickness. The poems are packed with fine precisions and particulars. But there is politics too, sometimes startlingly straight as in the poem about Andrew Jackson or sharp-edged as in 'Screaming'. Violet Energy Ingots is a fully mature work in that it is confident of both its voice and its readers' alertness. It makes its own space. It demands it and holds it."
Summary
The poems in Violet Energy Ingots contain a sense of dis-ease, rupture, things frayed, and grief – as love shimmers the edges. Ryo Yamaguchi describes Nguyen's writing as "a kind of stuttering with intelligences, impressions, and emotions flaring up as the words find their pathways". As grounded in earth as in the stars, her poems are reminders of the possibilities of contemplation in every space and moment.
Note: Summaries are taken from promotional materials supplied by the publisher, unless otherwise noted.
Hoa Nguyen reads Eve and Digressive Parenthesis
Eve

I could be naked and eating
figs Instead I'm a rib-woman
howling and chased
by a winged god-baby

My man is embarrassed

kicked out
of the world-garden
to become farmers

Digressive Parenthesis

Make heart-shaped cakes
for the Queen of Heaven

Things that make you cry:
Geode stone pulse

That plant named wizard's herb
When the state of Michigan sells

"pristine treaty-protected land"
to make a limestone mine

I dreamt the spider crossed
my eye and I crushed it

into my eye Why is the first
day the hardest day? The city

susurrus Are us especially
if you get to keep the money

From Violet Energy Ingots by Hoa Nguyen
Copyright © 2016 by Hoa Nguyen
More about Hoa Nguyen
The following are links to other Web sites with information about poet Hoa Nguyen. (Note: All links to external Web sites open in a new browser window.)
Have you read Violet Energy Ingots by Hoa Nguyen? Add your comments to this page and let us know what you think.