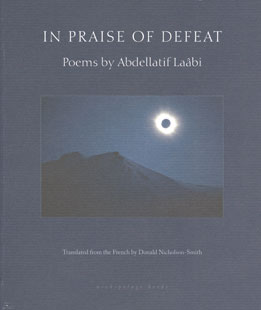 Book: In Praise of Defeat
Translator: Donald Nicholson-Smith
Poet: Abdellatif Laâbi
Publisher: Archipelago Books
Biographies
Donald Nicholson-Smith is a translator and freelance editor. Born in Manchester, England, and a long-time resident of New York City, Nicholson-Smith's many translations include the works of Jean-Patrick Manchette, Thierry Jonquet, Guy Debord, Paco Ignacio Taibo II, Henri Lefebvre, Raoul Vaneigem, Antonin Artaud, Jean Laplanche, and Guillaume Apollinaire. He has also translated many texts dealing with psychology and social criticism. He won the 2015 French-American Foundation Translation Prize for his translation of Manchette's The Mad and the Bad.
Abdellatif Laâbi, poet, novelist, playwright, translator, and political activist, was born in Fez, Morocco in 1942. He was the founder of Souffles, a left-leaning literary review banned by the Moroccan government in 1972. An outspoken critic of the authoritarian and theocratic regimes of the Maghreb, Laâbi was imprisoned in Morocco for eight years and later exiled to France. Deemed by Amnesty International a prisoner of conscience, Laâbi received the Prix de la Liberté and the Prix International de Poésie while imprisoned. He went on to receive the Prix Robert Ganzo de Poésie in 2008, the Prix Goncourt de la Poésie for his Œuvre complète in 2009, and the Grand Prix de la Francophonie from the Académie Française in 2011.
Judges' Citation
"In this bilingual book (Laâbi's original French and Nicolson-Smith's English) – a book that is monumental both in size (over 800 pages) and in scope – we meet one of the major poets of our time, one who has lived through great and catastrophic events and responded to them with a passionate intelligent humanity. Laâbi can move from the simplest short poems about the delights of the body to complex meditations on war, violence and prison. That he does so in such an open, generous voice (so well communicated by the dedicated translator, since this must have been an epic labour of love for him) is one of the admirable aspects of Laâbi's mind and art. The rhetorical pitch is perfectly judged. There is nothing glib about the eloquence, nor is there anything uncontrolled or self-indulgent about the fury when it rises. The poems are public in the best sense in that they address the reader as an equal, not as from a tower but in the street. The interest in Laâbi's work is intense and growing and other fine books of translations from his work have become available. But this is a landmark."
Summary
Abdellatif Laâbi is without a doubt the major francophone voice of Moroccan poetry today. Shaped by struggle and the pain of exile, Laâbi's is a poetry of protest – internally tumultuous yet delicate verse that grapples with political and spiritual oppression. This collection of poems, selected by Laâbi himself, shows the evolution of his style. From the mutilated syntax and explosive verse of his early work to the subtle lyricism and elegant constructions of phrase that characterize him now, Laâbi never ceases searching, demanding, penetrating.
Note: Summaries are taken from promotional materials supplied by the publisher, unless otherwise noted.
Abdellatif Laabi and Donald Nicholson-Smith read from In Praise of Defeat
Picture

Picture
a birth without pain
a history still virgin
Air
completely renewed
Oceans utterly clean
Spring water
singlehandedly bestowing
nourishment and knowledge
Fire cultivated
to make wine
and the elixir of childhood
A favorable wind
from the open sea
bearing the sage harmonies
that presided over creation
Animals free
friends of beauty
and protectors of rare species

Picture
a new home
for language and the Idea

Picture
what just anybody wants
in their heart of hearts:
a different life
where you can freely choose
your procreators
your place and date of birth
your name and nickname
your voice
your natural tongue or tongues
your religion if need be
your loves
one or many
the cast of your ideas
your long-mulled battles
your house and its guardian tree
your ramblings and pilgrimages
books
music
paintings
on a par
with your own
talents
and while we are at it
a few secrets
that harm no one
such as a personal double
to confide in
without risk of betraying yourself
or being betrayed
and a few idiosyncrasies
to mark yourself off from the herd
like laughing
at what does not seem funny
or shedding tears at festive moments

Picture
a life
that we would freely construct
from A to Z

Picture
women and men
cured of the fear
of submission
having nothing to sell
nothing to buy
relieved of possession
Still in love
still mortal

Picture a life
without waiting rooms
a life followed by no regrets
no remorse
A tale handed down
from the beginning
that each of us designs
and interprets
after their own fashion

Picture
an unknown episode of Genesis
describing a new continent
where luckier people than us
would at least experience
the missing season

Utopia
would be in its element
From dream to reality
There would be reasonable delays
and undoubtedly
short cuts

Living
would not be futile
We would no longer sleep
by closing eyes
separated from the heart
or get nourishment
save from imagination
pure and impure
without appetizer or accompaniment

We would still dream
but dream bigger
likewise inhabit the whole universe
with no need to travel
likewise negotiate a fair peace treaty
with the unchained
forces of nature
and likewise introduce
the principle of love
into the Preamble
to a Universal Constitution

We would eliminate
the minimum quota
of incomprehensible punishments
and keep only those that
increase security
and aid inquiry
and the quest
for probable
and improbable enlightenment

We would lavish care
as on the apple of our eye
on every drop of water
every grain of sand
every molecule of air
and, even closer to us
on all the frail
hesitant
fleeting
remnants in the depth of being
of solitude
and fear

Death
harrowing
degrading
would be replaced
by a discreet
clean departure
whose reason would be understood
and elegance hailed
by any and everyone

Picture the unattainable
within our reach
and the powerful instinct
the streak of genius
that would make us extend our hand
not to caress it
as in a dream
but to seize it
resolutely

Picture
our adventure
incredibly
resuming
with renewed vigor

From In Praise of Defeat by Donald Nicholson-Smith, translated from the French written by Abdellatif Laâbi

Copyright © La Difference and Abdellatif Laâbi

English language copyright © Donald Nicholson-Smith, 2016
More about Donald Nicholson-Smith and Abdellatif Laâbi
The following are links to other Web sites with information about translator Donald Nicholson-Smith and poet Abdellatif Laâbi. (Note: All links to external Web sites open in a new browser window.)
Have you read In Praise of Defeat by Donald Nicholson-Smith translating from French by Abdellatif Laâbi? Add your comments to this page and let us know what you think.