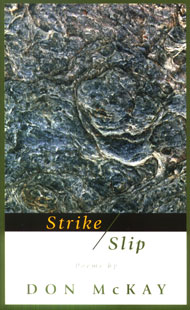 Book: Strike/Slip
Poet: Don McKay
Publisher: McClelland & Stewart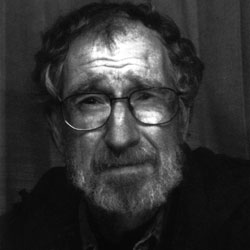 Biography
Don McKay has published 10 previous works of poetry. He is the winner of two Governor General's Literary Awards for Poetry for Night Field (1991) and Another Gravity (2000). He has been previously shortlisted twice for the Griffin Poetry Prize, first in 2001 for Another Gravity and in 2005 for Camber: Selected Poems, which was also named a Globe and Mail Notable Book of the Year. In addition to being shortlisted in 2007, McKay's new volume Strike/Slip has also been awarded the Dorothy Livesay Poetry Prize. Don McKay lives in British Columbia, Canada.
Judges' Citation
"In Strike/Slip, Don McKay walks us out to the uncertain ground between the known and unknown, between the names we have given things and things as they are. This is wonder's territory, and from within it McKay considers a time 'before mind or math' before rock, in human hands, turned over in the mind, becomes stone. The poems confront the strangeness and inadequacy of using language to address the point at which language fails – the point where, 'wild and incompetent, / you have no house' – and suggest that in such an unsettled state we might truly pay attention. In McKay's work, attention is the foundation of a poetics and an ethics in which otherness is respected, indeed cherished, for its ability to unhouse. But Strike/Slip also speaks to the intimacy of our relationships with time. How, at once metaphysical, practical, and intuitive, the weight of it is thought, felt in the body, and discerned in the landscape as sediment and growth, rust and erosion. McKay's meditations on time's evidence acquire a similar heft, proposing, in their discipline of mind and generosity of spirit, a way to be at home in the world. A book of patience, courage, and quiet eloquence, Strike/Slip manifests, like quartz, 'Some act of pure attention … simple, naked, perilously perfect'."
Summary
Don McKay walks the strike/slip fault between poetry and landscape, sticks its strange nose into the cold silence of geologic time, meditates on marble, quartz, and gneiss, and attends to the songs of ravens and thrushes, and the clamour of the industrialized bush. Behind these poems lies the urge to engage the tectonics of planetary dwelling with the rickety contraption of language, and to register the stress, sheer, and strain – but also the astonishment – engendered by that necessary failure.
Note: Summaries are taken from promotional materials supplied by the publisher, unless otherwise noted.
Don McKay reads Astonished / Petrified
Astonished / Petrified, by Don McKay
Astonished –

astounded, astonied, astunned, stopped short
and turned toward stone, the moment
filling with its slow
stratified time. Standing there, your face
cratered by its gawk,
you might be the symbol signifying eon.
What are you, empty or pregnant? Somewhere
sediments accumulate on seabeds, seabeds
rear up into mountains, ammonites
fossilize into gems. Are you thinking
or being thought? Cities
as sand dunes, epics
as e-mail. Astonished
you are famous and anonymous, the border
washed out by so soft a thing as weather. Someone
inside you steps from the forest and across the beach
toward the nameless all-dissolving ocean.

Petrified –

your heart's tongue seized
mid-syllable, caught by the lava flow
you fled. Fixed,
you stiffen in the arms of wonder's dark
undomesticated sister. Can't you name her
and escape? You are the statue
that has lost the entrance into art,
wild and incompetent,
you have no house. Who are you?
You are the crystal that picks up
its many deaths.
You are the momentary mind of rock.

From Strike Slip, by Don McKay
Copyright © 2006 by Don McKay
More about Don McKay
The following are links to other Web sites with information about poet Don McKay. (Note: All links to external Web sites open in a new browser window.)
Have you read Strike/Slip by Don McKay? Add your comments to this page and let us know what you think.
Photo credit: Don McKay