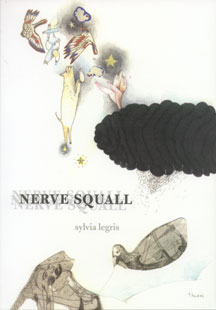 Book: Nerve Squall
Poet: Sylvia Legris
Publisher: Coach House Books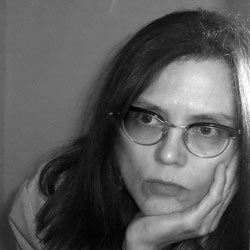 Biography
Sylvia Legris is originally from Winnipeg and now lives in Saskatoon. Nerve Squall is her third book of poetry, and in addition to the Griffin Poetry Prize, it has also garnered the 2006 Pat Lowther Memorial Award and is nominated for a Saskatchewan Book Award. Her poems have been published in many journals, including Border Crossings, Room of One's Own, and CV2. Her previous books are iridium seeds and circuitry of veins.
Legris has twice been nominated for a Pushcart Prize, Best of the Small Presses Series and in 2001 won the Malahat Review's Long Poem Prize for Fishblood Sky. Legris also received an Honourable Mention in the poetry category of the 2004 National Magazine Awards.
Judges' Citation
"Sylvia Legris' high-octane poems are powered by 'atmospheric overload'. Her eye is that of the twenty-first century – zooming from satellite to microscope – but her focus and coherence are increasingly rare in this age. In her hands, language refracts in ways which break open etymology to bring us more sense rather than less. Legris' poems build like chords from sub- to super-sonic and, even at their most rapid and heightened point, sustain the force of poetic enquiry. There is always, as she says, 'something on your hook, you feel it'."
Sylvia Legris reads 4 MARKED BY CLAWS AND CLOUDBURST …
4 MARKED BY CLAWS AND CLOUDBURST …

The calendar marred with birds and you are kik-kik-kik-kicking all the way into June.
180 days scratched with black X's and crow's feet: bird-of-two-minds (goodandevil
goodandevil)
single-minded bird (plotting the sky).

—

… birds … notorious … birds (… ruffled feathers and fiendish …)

Rain-divining ducks; rain-murderous blackbirds, hollering hollering from sunrise to sunrise.
Long day after longest day of wing-striped sky, sun eclipsed by featuers. Blue-black,
bruise-black,
antigen-tinged half moons under your eyes. Beleagured just by thoughts
of countless birds, prospects of an entire summer riddled with peck-marks and quills …

Even under closed eyes: oneiric birds; four stages of sleep, each one soaring you deeper
And deeper into raptor-psyche: Cooper's hawk, Red-tailed hawk, Black-shouldered kite
keep-keep-keep

… getting sleepy … sleepier …

From Nerve Squall
Copyright © Sylvia Legris, 2005
More about Sylvia Legris
The following are links to other Web sites with information about poet Sylvia Legris. (Note: All links to external Web sites open in a new browser window.)
Have you read Nerve Squall by Sylvia Legris? Add your comments to this page and let us know what you think.
Note: Summaries are taken from promotional materials supplied by the publisher, unless otherwise noted.