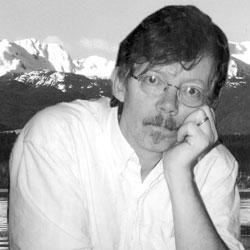 Biography
Phil Hall was born in 1953 and raised on farms in the Kawarthas region of Ontario. His newest book of poems is An Oak Hunch, the title of which comes from one of the sequences in this five-sequence selection and is the author's homage to a poetic mentor, Al Purdy. Hall's first book, Eighteen Poems, was published in Mexico City in 1973. Since then he has published eight other books of poems, three chapbooks, and a cassette of labour songs. His books of poetry include Why I Haven't Written (1985), The Unsaid (1992), and Trouble Sleeping (2000).
Hall has taught writing and literature at York University, Ryerson University, the Kootenay School of Writing and a number of colleges. He has been a poet in residence at the University of Western Ontario, the Kingston Writer's Workshop, The Sage Hill Writing Experience in Saskatchewan, and elsewhere. Since 1976 he has been a small publisher of broadsides and chapbooks under his Flat Singles Press imprint. In 2001, his book Trouble Sleeping was nominated for the Governor General's Literary Award for Poetry. Hall holds an M.A. in creative writing from The University of Windsor. He has been the literary editor of This Magazine and is editor and publisher of Flat Singles Press. He teaches poetry at George Brown College and English at Seneca College, both in Toronto.
Judges' Citation
"These are poems of ferocity and humility, of vulnerability and wit, poems whose skilled complexities elucidate the lyric disturbance of melody, memory and self. Grasping his intimate line like a kind of loved and fortuitous handtool, what Hall constructs is a voice that attends to the familial and psychic histories submerged in landscape, in all their bitterness and gorgeousness. There is a rough amplitude in his compositional principle: that 'between the body & language/ a ravine of call and response'. In this work, out of the uncertainty and lag of dailiness comes the knowledge that although precision isn't always simple, by the precise ear we may arrive at the heart."
Phil Hall reads SAVING A LOST PATH BACK and THE BIG JACK I CAUGHT IN THE STONEPILE
SAVING A LOST PATH BACK and THE BIG JACK I CAUGHT IN THE STONEPILE, by Phil Hall
SAVING A LOST PATH BACK

each evacuated tread cancelling a labeled dig<
each bounding hoof-track deep as a nostril

a path contorting like a storm rudder
or a knob on a dash – ingrown by scrub-hawthorn

deak – waree-ree-ree – tchee – tchee

bobolinks fluffing in quillwork shadow
haw-hips detonating clay red in cold bills

guernicas of scythed footage boiling
in the soup of the day – jacklit by vagrant strobes

deflective-ornery path back
still – I'm going

THE BIG JACK I CAUGHT IN THE STONEPILE

& put in the cellar to tame
ran in blurred circles 'til the farmhouse spun

when I caught him again to let him go
his hindlegs jumping in my fist like the tractor's gear knob
he tore a long furrow up the belly of my arm
as if I'd been trying to kill myself

the house slowly stopped spinning
& fell on its side – the cellar an open grave
its soft potatoes handled by cloud-shadow

boy was my arm ever starting to sing

From An Oak Hunch, by Phil Hall
Copyright © Phil Hall, 2005
More about Phil Hall
The following are links to other Web sites with information about poet Phil Hall. (Note: All links to external Web sites open in a new browser window.)
Have you read An Oak Hunch by Phil Hall? Add your comments to this page and let us know what you think.
Note: Summaries are taken from promotional materials supplied by the publisher, unless otherwise noted.