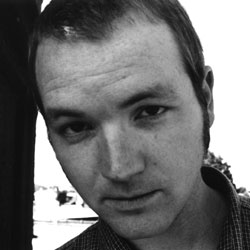 Biography
Matthew Rohrer's most recently published work is A Green Light (2004) the book for which he has been named to the International shortlist for this year's Griffin Poetry Prize. He is the author of A Hummock in the Malookas (1994) the winner of the National Poetry Series, and Satellite (2001), Nice Hat. Thanks. (2002, with Joshua Beckman), and the audio CD Adventures While Preaching the Gospel of Beauty (2003, also with Joshua Beckman). Rohrer has appeared on NPR's All Things Considered – The Book Show, and his poems have appeared in many journals and anthologies and have been translated into Slovenian, Finnish and Portuguese.
Born in Ann Arbor, Michigan, and raised in Oklahoma, Rohrer won a Hopwood Award for Poetry and a Master of Fine Arts Degree in Poetry while at the University of Iowa. Presently living in Brooklyn, New York, Rohrer is the Poetry Editor for Fence.
See also: Matthew Rohrer, 2005 International Griffin Poetry Prize Shortlisted Poet, Opens the 2007 Awards Ceremony
Judges' Citation
"With jumpy verve, Rohrer's green-lit poems lay bare an anxiety of influence, social and linguistic, and present us the sideways view of the world of a young American not able to assume the mantle of hero, not able to be 'the adorable boy'. In the midst of what could be, in other hands, wreckage or hopelessness, Rohrer's poems run up the banner of hopefulness, create complete poems out of incomplete thoughts. Rohrer has an enchanting willingness to look outward, a willingness not to grasp the world using old means which have failed us, even if no new means present themselves ready-made – no wonder jumpiness is in our very condition. There is, too, a current of sadness that his lines and words buck even as they convey; yet the grief they carry does not bear us downward. This is a book with an edge, a book of brash clamour and hard-earned joy."
Matthew Rohrer reads Dog Boy
Dog Boy, by Matthew Rohrer
Dog Boy

ONE

Late at night in Oklahoma, a very small, an extremely small man ran across the road in front of my friend's car. He does not doubt that this is real, though the rest of us do, and it doesn't bother him. He continues to paint portraits of astonishing trees each day and take long drives through the country at night. Nothing else can be learned about this mysterious incident.

TWO

On Scott Road, in Pittsburgh, which is a steep and winding city, full of good-natured people, just at the point where the road bottoms out beside a gnarled and ancient cemetery, a very small, an extremely small man ran across the road in front of my brother-in-law's car and scrambled into the tombstones. For the purposes of this story, I will refer to my brother-in-law as Matthew. Matthew had a friend in the car with him, and both of them saw this creature pass in front of them through the headlights. Matthew is the type to downplay this kind of thing, whether he dwells on it inwardly or not. Later, another friend of his who lives on Scott Road told Matthew he heard something outside one night and when he peered through the french doors he saw the same extremely small man leaping over the sandbox. How did he know it was the same one? I asked Matthew, and he shrugged and continued to strum an imaginary guitar, and Matthew's unconcern is the biggest mystery of them all.

From A Green Light, by Matthew Rohrer
Copyright © 2004 by Verse Press
More about Matthew Rohrer
The following are links to other Web sites with information about poet Matthew Rohrer. (Note: All links to external Web sites open in a new browser window.)
Have you read A Green Light by Matthew Rohrer? Add your comments to this page and let us know what you think.
Photo credit: Susan McCullough