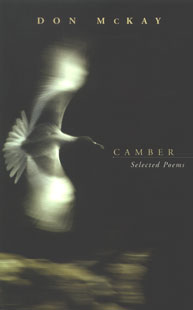 Book: Camber
Poet: Don McKay
Publisher: McClelland and Stewart Ltd.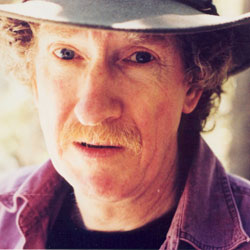 Biography
Don McKay has published numerous books of poetry including Birding, Or Desire (1983), Sanding Down This Rocking Chair on a Windy Night (1987), Night Field (1991), Apparatus (1997) and Another Gravity (2000). McKay has won two Governor General's Awards for Poetry (in 1991 and 2000), a National Magazine Award in 1991, the Canadian Authors Association Literary Award for Poetry in 1983, was a finalist for the Governor General's Award for Poetry (also in 1983) and was shortlisted for the inaugural Griffin Poetry Prize in 2001. McKay's latest book of poetry, Strike/Slip, was published in early 2006. 2006 also saw the publication of Field Marks – The Poetry of Don McKay, a volume featuring some of his best poetry, selected and with a contextualizing introduction by Meira Cook.
Born in Owen Sound in 1942, McKay is known as a poet, as an editor and as a creative writing teacher. He has taught at the University of Western Ontario, the University of New Brunswick, The Banff Centre, the Sage Hill Writing Experience, and the BC Festival of the Arts. He has served as editor and publisher of Brick Books, and from 1991 to 1996 he edited Fiddlehead magazine. He presently lives in British Columbia.
McKay's 2006 collection, Strike/Slip, won the 2007 Canadian Griffin Poetry Prize.
Judges' Citation
"Music is a word often associated with McKay's poetry, and this selection of work covering three decades is a triumph of lyricism and linguistic orchestration. McKay displays an extraordinary capacity for submitting to and revelling in the musical phrases and cadences of language while never coming loose from meaning and sense. So simultaneously his poems succeed at both the intellectual and the instinctive level. He is an essential poet of our time in as much as he describes our deep, complex and vital relationship with the planet, a relationship which seems so close to breakdown. His gift, it seems, is as natural and as the living world he so frequently chooses to write of, and his poems as airborne and acrobatic as the birds which populate the vast skies and landscapes of his imagination."
Don McKay reads Setting the Table
Setting the Table, by Don McKay
Setting the Table

1. Knife

who comes to the table fresh
from killing the pig, edge
of edges,
entry into zip.
Knife
who can swim as its secret
through the dialogue or glimmer
in a kitchen drawer. Who first appeared
in God's hand to divide
the day from the night, then the sheep
from the goats, then from the other
sheep, then from their comfortable
fleeces. Nothing sinister in this except
it had to happen and it was the first
to have to. The imperative
mood. For what we are about to take
we must be grateful.

2. Fork

a touch of kestrel,
of Chopin, your hand with its fork
hovers above the plate, or punctuates
a proposition. This is the devil's favourite
instrument, the fourfold
family of prongs: Hard Place,
Rock, Something You Should Know,
and For Your Own Good. At rest,
face up, it says,
please, its tines
pathetic as an old man's fingers on a bed.
Face down it says
anything that moves.

3. Spoon

whose eloquence
is tongueless, witless, fingerless,
an absent egg.
Hi Ho, sing knife and fork, as off they go,
chummy as good cop and bad cop,
to interrogate the supper. Spoon waits
and reflects your expression,
inverted, in its tarnished moonlight. It knows
what it knows. It knows hunger
from the inside
out.

From Camber, by Don McKay
Copyright © 2004 by Don McKay
More about Don McKay
The following are links to other Web sites with information about poet Don McKay. (Note: All links to external Web sites open in a new browser window.)
Have you read Camber by Don McKay? Add your comments to this page and let us know what you think.
Photo credit: Jan Zwicky