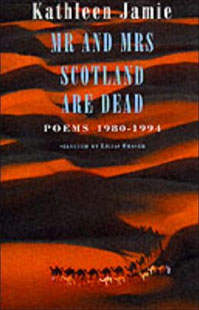 Biography
Kathleen Jamie was born in the West of Scotland in 1962. She has received several prestigious awards for her poetry, including the Somerset Maughan Award, a Forward Prize, and a Creative Scotland Award. She has twice won the Geoffrey Faber Memorial Prize. Her celebrated volumes, The Queen of Sheba and Jizzen, were shortlisted for both the T.S. Eliot and Forward Prizes. Her latest collection, The Tree House has garnered the esteemed Forward Prize and the Scottish Book of the Year Award, and was shortlisted for the T.S. Eliot Prize. She lives in Fife and teaches Creative Writing at St. Andrews University.
Kathleen Jamie was a judge for the 2010 Griffin Poetry Prize.
Judges' Citation
"Kathleen Jamie appraises her roots while keeping an eye on far horizons. While there is of course much that is quintessentially Scottish in her poetry, her generous, transfiguring imagination takes in the world – Pakistan, Tibet, the Middle East as well as beloved native landscapes such as Orkney and Tayside. These poems are fleet in their chronicling and abundant in circumstantial detail, but also interior, spiritually entangled. Her humane vision brings to life the dangers of wartime and the peace of home. The edgy amorousness in some of the poems is matched by a chaste utterance that intensifies the erotic charge. She has perfect pitch, a natural sense of cadence and verbal melody that helps to give her work the feel of organic inevitability: her poems make their shapes as a fountain does (and the Jamie fountain is fed by pure spring-water). The lovely surface-shimmer of her poetry beguiles us just as its inner radiance ensures that we will keep returning to it."
Kathleen Jamie reads Mr and Mrs Scotland Are Dead
Mr and Mrs Scotland Are Dead, by Kathleen Jamie
Mr and Mrs Scotland Are Dead

On the civic amenity landfill site,
the coup, the dump beyond the cemetery
and the 30-mile-an-hour sign, her stiff
old ladies' bags, open mouthed, spew
postcards sent from small Scots towns
in 1960: Peebles, Largs, the rock-gardens
of Carnoustie, tinted in the dirt.
Mr and Mrs Scotland, here is the hand you were dealt:
fair but cool, showery but nevertheless,
Jean asks kindly; the lovely scenery;
in careful school-room script –
The Beltane Queen was crowned today.
But Mr and Mrs Scotland are dead.

Couldn't he have burned them? Released
in a grey curl of smoke
this pattern for a cable knit? Or this:
tossed between a toppled fridge
and sweet-stinking anorak: Dictionary for Mothers
M:- Milk, the woman who worries?;
And here, Mr Scotland's John Bull Puncture Repair Kit;
those days when he knew intimately
the thin roads of his country, hedgerows
hanged with small black brambles' hearts;
and here, for God's sake, his last few joiners' tools,
SCOTLAND, SCOTLAND, stamped on their tired handles.

Do we take them? Before the bulldozer comes
to make more room, to shove aside
his shaving brush, her button tin.
Do we save this toolbox, these old-fashioned views
addressed, after all, to Mr and Mrs Scotland?
Should we reach and take them? And then?
Forget them, till that person enters
our silent house, begins to open
to the light our kitchen drawers,
and performs for us this perfunctory rite:
the sweeping up, the turning out.

From Mr and Mrs Scotland Are Dead, by Kathleen Jamie
Copyright © Kathleen Jamie, 2002
More about Kathleen Jamie
The following are links to other Web sites with information about poet Kathleen Jamie. (Note: All links to external Web sites open in a new browser window.)
Have you read Mr and Mrs Scotland Are Dead by Kathleen Jamie? Add your comments to this page and let us know what you think.
Photo credit: Claire McNamee, 2001