See also 2008 Judges.

Poet and novelist John Burnside was born in 1955 in Dunfermline, Scotland. A former computer systems engineer, he has been a freelance writer since 1996; he has also worked as a gardener and in a variety of jobs. He is currently Reader in Creative Writing at the University of St Andrews.
His first collection of poetry, The Hoop, was published in 1988 and won a Scottish Arts Council Book Award. Other poetry collections include Common Knowledge (1991); Feast Days (1992), which won the Geoffrey Faber Memorial Prize; The Asylum Dance (2000), winner of the Whitbread Poetry Award; The Light Trap (2001) and, most recently, The Good Neighbour (2005).
John Burnside is also the author of a collection of short stories, Burning Elvis (2000), and several novels, including The Dumb House (1997), The Mercy Boys (1999) and The Locust Room (2001), which is set in Cambridge in 1975. His latest novel, Living Nowhere, is a powerful and violent story of friendship and loss. His critically acclaimed memoir, A Lie About My Father, was published in 2006.
A new novel, The Devil's Footprints, and a collection of poems, entitled Gift Songs, will appear in the spring of 2007. John Burnside lives in rural Fife, with his wife and two sons.

Pulitzer Prize-winning poet Charles Simic has published five books of essays, a memoir, numerous translations and sixteen collections of poetry. His collection Selected Poems: 1963-2003 won the International Griffin Poetry Prize in 2005. Born in 1938 in Belgrade Yugoslavia, Simic immigrated to the United States in 1952 and saw his first poems published in 1959. In 1961 he was drafted into the US Army and in 1966 earned his Bachelor's degree at New York University, publishing his first full-length collection of poems, What the Grass Says, in 1967. Since then he has published more than 60 books in the United States including My Noiseless Entourage (2005), Jackstraws (Notable Book of the Year in the New York Times, 1999), Walking the Black Cat (finalist for the National Book Award in Poetry, 1996), A Wedding in Hell (1994), Hotel Insomnia (1992), The World Doesn't End: Prose Poems (for which he received the Pulitzer for Poetry in 1990), Selected Poems: 1963 – 1983 (1990), and Unending Blues (1986). He has also published many translations of French, Serbian, Croatian and Macedonian and Slovenian poetry and has twice won the Pen International Translation Award.
Amongst his many accomplishments and accolades, Simic was the Guest Editor of The Best American Poetry 1992, was elected a Chancellor of the Academy of American Poets in 2000 and has received fellowships from the Guggenheim Foundation, the MacArthur Foundation and the National Endowment for the Arts. Since 1973, Simic has lived in New Hampshire where he is Professor of English at the University of New Hampshire.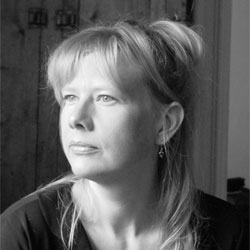 Karen Solie was born in Moose Jaw and grew up on the family farm in southwest Saskatchewan. Her first collection of poems, Short Haul Engine, won the BC Book Prize Dorothy Livesay Award and was shortlisted for the 2002 Griffin Poetry Prize, the Gerald Lampert Award, and the ReLit Prize. Her second, Modern and Normal, was shortlisted for a Trillium Award and included on the Globe and Mail's list of the 100 best books of 2005. Her work has been anthologized in Canada and the U.S., and her poetry, short fiction, and creative non-fiction published in a variety of journals. Her short fiction appeared in The Journey Prize Anthology 12 and she has twice been a finalist for a National Magazine Award for poetry. Writer-in-residence for the University of New Brunswick in 2006/2007, she has also held the position of Writer-in-residence at the University of Alberta and has been on faculty for the Banff Centre for the Arts' Wired Writing Studio. She will facilitate the poetry workshop for the Sage Hill Writing Experience this summer, and is a regular book reviewer for the Globe and Mail.
Photo credits:
Karen Solie, by David Seymour
See also 2006 Judges.