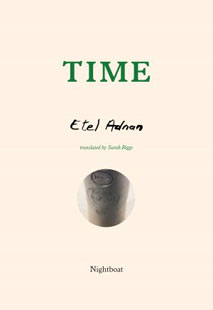 Book: Time
Translator: Sarah Riggs
Poet: Etel Adnan
Publisher: Nightboat Books
Biographies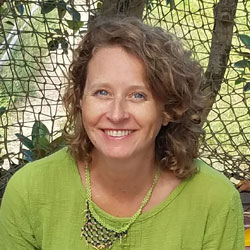 Sarah Riggs is the author of five books of poetry in English: Waterwork (2007), Chain of Miniscule Decisions in the Form of a Feeling (2007), 60 Textos (2010), Autobiography of Envelopes (2012), and Pomme & Granite (2015). She has translated and co-translated six books of contemporary French poetry into English, including most recently Oscarine Bosquet's Present Participle. Sarah Riggs lives in Brooklyn, NY.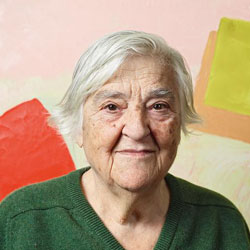 Etel Adnan was born in Beirut, Lebanon in 1925. She studied philosophy at the Sorbonne, U.C. Berkeley, and at Harvard, and taught at Dominican College in San Rafael, California. In 2014 she was awarded one of France's highest cultural honors: l'Ordre de Chevalier des Arts et Lettres and was a winner of the Lambda Literary Award for Lesbian Poetry, and the California Book Award for Poetry in 2013 for Sea and Fog. Her most recent books are Night (2016) and Surge (2018).
Judges' Citation
"'I say that I'm not afraid/of dying because I haven't/ yet had the experience/ of death' writes Etel Adnan in the opening poem to Time. What is astonishing here is how she manages to give weariness its own relentless energy. We are pulled quickly through this collection – each poem, only a breath, a small measure of the time that Adnan is counting. Every breath is considered, measured, observant – perceiving even 'a crack in the/ texture of the day.' If Adnan is correct and 'writing comes from a dialogue/ with time' then this is a conversation the world should be leaning into, listening to a writer who has earned every right to be listened to."
Sarah Riggs reads from Time
from Return from London

I perceive in passing
a crack in the
texture of the day

there are fewer and fewer
sailors, the sea waits
for the end of the living

soon I'm going to take
the train. then enter the
wall covered in red vines

it's not a question of
going down into the garden
time should
leave us

place gold crowns
on your heads
hell is not the sole
owner of fire

we call history the wells
brimming with orgasms. this tree is full of
its shadow

malediction is a curse,
a split, a look that
shuts – a blow to the head

some objects die
before us. pre-war,
the houses would collapse under
the furniture

freshness is missing this summer.
bread is missing also, surrounded by
prosperity. the space shuttle
has a hole in its stomach

thought derailed from the first
instant. I told you: go to
the mountain top, where there's nothing
left to be seen

fever took hold of time.
light is astonished by its own
brightness. thus begins the final question:
what have I done with my childhood?

attention has its origin in
an impalpable fog.
rainy days, we become
plants

don't lose this need to exist
which precedes birth. History
is born in immaterial places, and
follows fate

love is the subversion of
death. our survival depends on
the capacity of the real to escape
the assault of language

laziness – with its inebriating effects –
is the wine of the poor, and of those
who wander among them

From Time by Sarah Riggs, translated from the French written by Etel Adnan
Copyright © 2019 by Etel Adnan
English translation © 2019 by Sarah Riggs
More about Sarah Riggs and Etel Adnan
The following are links to other Web sites with information about translator Sarah Riggs and poet Etel Adnan. (Note: All links to external Web sites open in a new browser window.)
Have you read Time by Sarah Riggs, translated from the French written by Etel Adnan? Add your comments to this page and let us know what you think.
Photo credits:
Sarah Riggs, by Omar Berrada