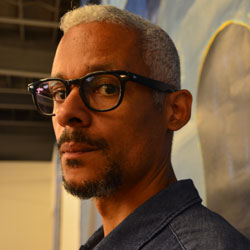 Biography
Kaie Kellough is a novelist, poet, and sound performer. He was born in Vancouver, British Columbia, raised in Calgary, Alberta, and in 1998 moved to Montreal, Quebec where he now lives. He is the author of the novels Dominoes at the Crossroads, and Accordéon, which was a finalist for the Amazon.ca First Novel Award, two books of poetry, Lettricity and Maple Leaf Rag, and two albums, Vox:Versus and Creole Continuum. He has performed and published internationally.
Judges' Citation
"Speaking to Caribbean and hemispheric migrations, the poems in Magnetic Equator recall trouble, hybridity, steep falls, continuance, and elaboration. Taking on influence, place, and racialized diasporic experience as it draws language into geographic drifts and historic collisions, these are voicings that cascade and collect 'an accent adrift in its second language / over a b-side version of empire'. Singing of exile and scattering, the text negotiates survival and revolt as it moves with the surety and complexity of improvisation and collaboration. Sonic, visual, and intertextual, Kaie Kellough traces source and accumulation: 'our crossings of past, we depart / opposite, along the sentence that encircles the world'."
Kaie Kellough reads from Magnetic Equator
from high school fever / nowhere, prairie

inside the music was a hiss, the hiss of hash smoke released by heat, the hiss of
3M tape riding a slow reel the ambient release of doubt in the darkened
half of the brain, the dust and static crackling, a hiss that engulfed the sound
a hiss that became a white roar, cloud or air or smoke drubbing inside
me, inside of which there must have been a door inside the cascading
foam of kaieteur analog memory become white noise
density of whispers in both ears, this my thesis, there must have
been a door inside somewhere if i could pass through and
find myself in the past but the whispered babble dropped into a
rumble a pattern, a bassline that skanked froth and locked with a
drum's low kick – maybe the drum's black period was – but the door was
closed, and the music took shape again, mobile architecture lighter than air
brass wafting over the cyclic song, and i listening, feeling almost – found
i'd almost reached through no return to touch but there was
nothing there, only space, an ever-receding gleam, the dying luminosity of
alpha centauri, winked out of existence like species, but still lingering in the
onyx
drip of a dream, maybe. i was dreaming. maybe? the smoke swirled to a
drop, the skeletal sound a supple graph of notes, of pure time and form
steady on the air i am 400 years from home, with
stardust and salt mixing in my rizla. high by the mute dials'
nocturnal fizzle

From Magnetic Equator by Kaie Kellough
Copyright © 2019 by Kaie Kellough
More about Kaie Kellough
The following are links to other Web sites with information about poet Kaie Kellough.
Have you read Magnetic Equator by Kaie Kellough? Add your comments to this page and let us know what you think.
Photo credits:
Kaie Kellough, by Melissa-Anne Cobbler