Book: The Art of Dying
Poet: Sarah Tolmie
Publisher: McGill-Queen's University Press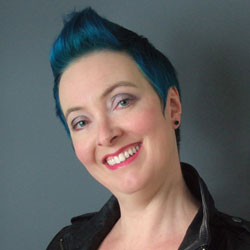 Biography
Sarah Tolmie is an associate professor of English at the University of Waterloo. Her poetry collection, Trio, was shortlisted for the 2016 Pat Lowther Award. She is a medievalist trained at the University of Toronto and University of Cambridge.
Judges' Citation
"A modern danse macabre in eighty-nine parts, Sarah Tolmie's The Art of Dying conceals a multifaceted meditation on mortality beneath its deceptively simple lyric surface. An irreverent feminist in the tradition of Dorothy Parker and Stevie Smith, Tolmie leverages the subversive possibilities of doggerel to upend our assumptions about everything from abortion to the Anthropocene. Wickedly funny, this is work of great intimacy, too, introducing us to a mother, concerned citizen, social media addict, bookworm, and bon vivant who wants nothing more than to remain 'Here on the quiet earth that I still love, / Where the last humans are.'"
Eve Joseph reads from The Art of Dying
51

Spam is dead, great Spam is dead –
Will be the epitaph of the internet
The day it powers down and we go back to skinning goats.

After it goes rogue and kills us all, almost
And we huddle on the ping-pong ball of the burnt world
And re-invent the printing press.

Poets and cave painters then will rule
Holding fast our simple tools.

55

Finally, as I age, I get big tits.
Hurray! I've waited long enough for this.
There they are. Boom boom. I love it.
Cleavage. Some notice my face above it, yakking away.

But these guys come with a use-by date.
(Yes, mine are guys. Okay?)
I cram them in line in their corsetry,
Thinking of mom's dual mastectomy.

Like Angelina, perhaps I should just lop them now –
Pre-emptively? But where's the fun in that?
We don't get to enjoy our fat?

Hormones, drugs, anxiety, bacon, wine,
In ascending order bring me to my time.
They bought the boobs and they may take them back.

From The Art of Dying by Sarah Tolmie
Copyright © Sarah Tolmie 2018
More about Sarah Tolmie
The following are links to other Web sites with information about poet Sarah Tolmie.
Have you read The Art of Dying by Sarah Tolmie? Add your comments to this page and let us know what you think.