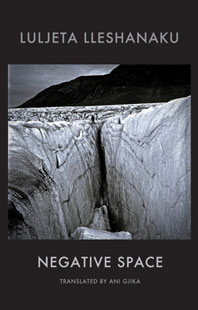 Book: Negative Space
Translator: Ani Gjika
Poet: Luljeta Lleshanaku
Publisher: Bloodaxe Books
Biographies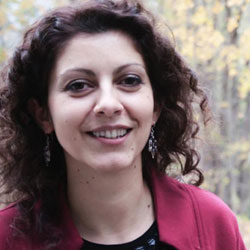 Ani Gjika is an Albanian-born poet, literary translator and writer. Her book Bread on Running Waters (2013) was a finalist for the 2011 Anthony Hecht Poetry Prize, and the 2011 May Sarton New Hampshire Book Prize. Gjika moved to the US when she was 18, earning an MA in English at Simmons College, and an MFA in poetry at Boston University. Her honours include awards and fellowships from the National Endowment for the Arts, the Robert Pinsky Global Fellowship, English PEN Translates, Framingham State University's Miriam Levine Award, and the Robert Fitzgerald Translation Prize.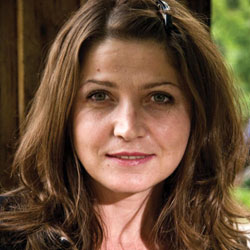 Luljeta Lleshanaku was born in Elbasan, Albania. She is the author of seven books of poetry in Albanian. Book length translations of her work into other languages include Antipastoral (Italy, 2006), Kinder der natur (Austria, 2010), Dzieci natury (Poland, 2011), and Lunes en Siete Dias (Spain, 2017). She has won several prestigious awards for her poetry, including PEN Albania 2016, and the International Kristal Vilenica Prize in 2009. In 2012 she was one of two finalists in Poland for their European Poet of Freedom Prize.
Judges' Citation
"With a lesser known original language, the more precious the gift of translation! Luljeta Lleshanaku's Negative Space offers a rare glimpse into contemporary Albanian poetry. Effortlessly and with crisp precision, Ani Gjika, herself a poet, has rendered into English, not only the poems in Negative Space, but also the eerie ambience which resonates throughout the book, the deep sense of impermanence that is one of the many consequences of growing up under severe political oppression. 'Negative space is always fertile.' Opening trauma's door, we're met by a tender and intelligent voice with stories illuminating existence in a shared humanity, thus restoring dignity. In a world fractured by terror and violence, Lleshanaku's poetry is infinitely exciting, soothing us, its citizens."
Ani Gjika and Luljeta Lleshanaku read from Water and Carbon
from Water and Carbon

3

Your body throws you under the bus; your body betrays you.
Your body is simply water and carbon.

I was 17 one morning in my prison cell
when after a night of delirium, running a 107-degree fever
caused by bronchopneumonia,
I woke up drenched in my own urine.
I was neither a child nor a man any more.

Then in the labour camp, out in the marsh,
I saw the theologian gathering rotten bits of cigarettes,
smelling the butts, trying to take a single drag.

But when I saw the former Sorbonne professor,
secretly digging through the trash and pick up a piece of watermelon rind,
which he then wiped on his pants and swallowed whole without chewing,
I knew I witnessed five thousand years of civilisation
extinguished in one moment.

Of course, it's always the fault of the witness,
the wrong eyes at the wrong place.
Without a witness we wouldn't even have crematoriums
and only white fumes would leak out of history's nostrils.

4

He had such dignity, the old man who hung himself
(rejected here on earth and now also in heaven),
his bare feet like a saint's, his body a frozen planet
revolving one last time around itself,
his head drooped to one side,
as if he were refusing to witness even his own death …

But it didn't end here; they plucked out his gold teeth
as if removing three generations of his history.
Declassed, disgraced, even among the dead.
How can a toothless man protect himself at the last Judgement?
How could he formulate his arguments?
The dead would laugh; angels would shake their heads.

And so he too would be forgotten.
Simply water and carbon like everyone else.

The living went back to work, eyes cast down as if at their own funeral.
The whips against their joints and back
gave them no time to think much.

You can't be last in line – this was the goal,
morning to night.

But where was our country at that moment? Where was Caesar?

From Negative Space by Ani Gjika, translated from the Albanian by Luljeta Lleshanaku
Copyright © Luljeta Lleshanaku 2012, 2015, 2018
Translation © Ani Gjika 2018
More about Ani Gjika and Luljeta Lleshanaku
The following are links to other Web sites with information about translator Ani Gjika and poet Luljeta Lleshanaku. (Note: All links to external Web sites open in a new browser window.)
Have you read Negative Space by Ani Gjika, translated from the Albanian by Luljeta Lleshanaku? Add your comments to this page and let us know what you think.