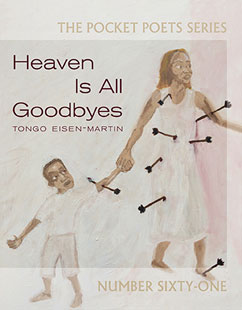 Biography
Tongo Eisen-Martin's previous book, the critically acclaimed someone's dead already (2015) was nominated for a California Book Award, and his poetry has been featured in Harper's Magazine. He is also a movement worker and educator who has taught in detention centres from New York's Rikers Island to California county jails. He has been a faculty member at the Institute for Research in African-American Studies at Columbia University, and his curriculum on the extrajudicial killing of Black People, "We Charge Genocide Again!", has been used as an educational and organizing tool throughout America. He lives in San Francisco, California.
Judges' Citation
"Tongo Eisen-Martin's Heaven Is All Goodbyes moves between trenchant political critique and dreamlike association, demonstrating how, in the right hands, one mode might energize the other—keeping alternative orders of meaning alive in the face of radical injustice. Eisen-Martin's voice is a chorus of other voices, many arising from prisons and landscapes of engineered poverty; his poems are places where discourses and vernaculars collide and recombine into new configurations capable of expressing outrage and sorrow and love. This unpredictable volume is equally a work of commitment and of wonder; no false consolation, no settling for despair. Its music makes a clearing in the dominant logic of the day. "When a drummer is present, he or she is God // "I am not an I. / I am a black commons."
Tongo Eisen-Martin reads Four Walls
Four Walls

A lot of God can happen in three seconds
Not much heaven though

Here is a man before a fight: A leave-me-alone type of character
emerging from the penniless death
of a one-way-street fiction
I mean I'm going to make it
even if I have to drive backwards

All I have is chord changes and a thousand backhands
Driving a street like I'm choking it

Car full of nephews
There hasn't been a son since November
And there hasn't been a street I can't choke to death

This city better back down

See this gun on the table
And something about staring until it all feels stable

Why wouldn't I protect everyone

All my deaths sleep late
And I name them all

My son better be quick
My daughter better shoot first

Because we fold for no one
We fold for nothing

Ok, the first thing you'll feel is a heat
This lady would tell me
Telling me about possession
Drink life neat is what I'd mostly hear
And most of the world leaves me alone

To breathe like a giant
To go to jail every once in a while

When the genocide kicks up in late May
When politicians have too easy a time:

I'm gassing backwards out of a one-way street
In honor of myself
And in honor of you (if you understand the nature of the world)

How long have I been
just like my father
One hell of a
resemblance says the
anxiety of five men
This is crossroads
Crossroads narrative
So much crossroad that
they got in the habit of
turning back
Turn back only to
find themselves
remembering me
But not my last words
A man before a fight

You will feel a heat
But there's nothing to keep in mind
Nothing to remember
Really nothing to be
Just this moment
Then another
Then stare
Then it all becomes stable
Then the table legs go fuzzy
And Friday is an unfamiliar face peeking through the window

It's cool to panic for a second
Composure is wasted on your worst enemies

People are marked on that sidewalk
You are the only thing life-sized
Everybody knows this
In a wire hanger empire
When the blood stops walking
This feeling isn't father enough to be permission to fold
You better swing one more time

That father of yours
Rose from the grave and said, just give me five more minutes
Said, running water is a myth
It's us who run up, down, and along side of this water

And people don't rise from the grave
They are not laid down neither
It's us who flip all round their body

So beware when the people around you look like they are about to jump
It might be your time

You'll feel a heat

And when four walls demand to be four walls
And the earth outside mutes
Do not panic

Do not recreate the earth outside
Do not tell jokes to yourself
Do not talk disrespectfully to the four walls
Instead, unclench your fist and walk away

There might be heaven
if you understand the nature of the world

From Heaven is All Goodbyes by Tongo Eisen-Martin
Copyright © 2017 by Tongo Eisen-Martin
More about Tongo Eisen-Martin
The following are links to other Web sites with information about poet Tongo Eisen-Martin.
Have you read Heaven is All Goodbyes by Tongo Eisen-Martin? Add your comments to this page and let us know what you think.
Photo credit:
Tongo Eisen-Martin, by Shalom Bower