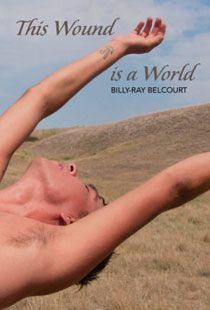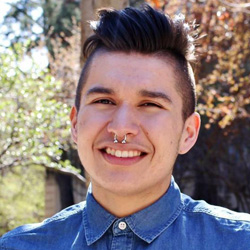 Biography
Billy-Ray Belcourt is from the Driftpile Cree Nation. He is a Ph.D. student at the University of Alberta, and a 2016 Rhodes Scholar who holds a M.St. in Women's Studies from the University of Oxford. In 2016, he was named one of six Indigenous writers to watch by CBC Books, and was the winner of the 2016 P.K. Page Founder's Award for Poetry. His work has been published in Assaraus: A Journal of Gay Poetry, Decolonization, Red Rising Magazine, mâmawai-âcimowak, SAD Mag, Yellow Medicine Review, The Malahat Review, PRISM International, and The Next Quarterly.
Judges' Citation
"Blending the resources of love song and elegy, prayer and manifesto, Billy-Ray Belcourt's This Wound is a World shows us poetry at its most intimate and politically necessary. Mindful of tangled lineages and the lingering erasures of settler colonialism, Belcourt crafts poems in which "history lays itself bare" – but only as bare as their speaker's shapeshifting heart. Belcourt pursues original forms with which to chart the constellations of queerness and indigeneity, rebellion and survival, desire and embodiedness these poems so fearlessly explore. Between its bold treatment of sexuality and wary anatomy of despair, This Wound is a World peels back the layers of feeling and experience to offer, finally, the glimmerings of hope – which only sometimes looks like escape: "follow me out the backdoor of the world". This electrifying book reminds us that a poem may live twin lives as incantation and inscription, singing from the untamed margins: "grieve is the name i give to myself / i carve it into the bed frame. / i am make-believe. / this is an archive. / it hurts to be a story."
Billy-Ray Belcourt reads Love and Heartbreak are Fuck Buddies
Love and Heartbreak are Fuck Buddies

love and heartbreak are fuck buddies who sometimes text each other at 10 in the morning. today, love asks: is this what the living do? as he tries to shit but can't because he doesn't eat enough fibre or exercise regularly. it's the little things that'll kill me, he adds. heartbreak responds, ignoring the first message: you emptied your body into the floorboards of me. they creak when i am lonely. if i am a haunted house, then let's make up a theory of negativity that notices the utopian pulse of sad stories like ours. well fuck, love types out. he deletes it. he sends a selfie with the caption: how's this for a theory of negativity? heartbreak laughs. true, he quips. love doesn't respond right away. he thinks there is something queer about leaving loose ends untied. love is a native boy from northern alberta who decided almost everything he does is an attempt to repair the brokenness-of-being that is indigeneity. last month, love fucked a security guard in the basement of a parkade at midnight. locking the door behind love, the security guard joked, don't worry, i'm not going to kill you or anything. love wonders if it is the possibility of being killed that partly animates his desires. that's fucked up, heartbreak tells love when love tells him this story. love hypothesizes that the parkade basement might be a metonym for the world. heartbreak thinks out loud: how do you know when the world is not that basement anymore? love answers: my kookum and mooshum don't use pronouns or proper nouns to address one another: they made their own language. that is how.

From This Wound is a World by Billy-Ray Belcourt
Copyright © 2017 by Billy-Ray Belcourt
More about Billy-Ray Belcourt
The following are links to other Web sites with information about poet Billy-Ray Belcourt.
Have you read This Wound is a World by Billy-Ray Belcourt? Add your comments to this page and let us know what you think.