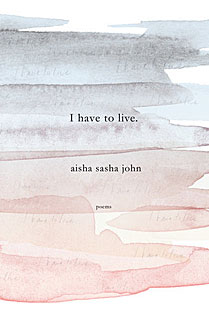 Book: I have to live.
Poet: Aisha Sasha John
Publisher: McClelland & Stewart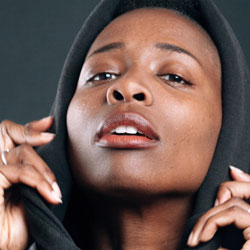 Biography
Aisha Sasha John is a poet, dancer and choreographer. Her solo performance 'The Aisha of Oz' premiered at the Whitney Museum in New York in 2017. Another iteration of the show will take place at the MAI in Montreal in 2018. Her previous poetry collection, Thou (2014), was a finalist for both the Trillium Book Award for Poetry and the ReLit Poetry Award. In addition to her solo work, she has choreographed, performed, and curated as a member of the performance collective WIVES. Aisha's video work and text art have been exhibited in galleries and public installations. Born in Montreal, Aisha has an MFA in Creative Writing from the University of Guelph, and a B.A. in African Studies and Semiotics from the University of Toronto.
Judges' Citation
"Aisha Sasha John's I have to live shows what poetry can become when stripped of prettiness and polite convention — when in survival mode. Spontaneous, its subjects unposed, its language unrehearsed, each poem has the effect of being taken with a polaroid camera. John writes poems that are resistant to overwrought aesthetics, poems that have popular appeal yet are uninhibited by audience, poems whose casual demeanour belie their fight against casualty. They wind their way into us like a chorus. They gain force by accumulation: "I do. / I did it. / I did. / I had to. / I have to. / I have to live." As a result, one does not engage with I have to live by familiar means of dissection and analysis. One need only listen, as to an aching friend. No need to fix anything. Just listen."
I decided that I was a planet and I was a planet.

I had to.
I decided that I was a planet and –
I am.

I want to love.
I see old women
Who live.

They know something

It's true I've suffered
The delusion
That I am unlamblike
But oh my gosh that's crazy.

Though it doesn't matter where I sit
And that I'm fucking crazy.

God gave it to me.
I have to live.

It doesn't matter where I sit
And that I'm fucking crunchy.

I have to be fibrous
So as not to be consumed.
I have to
Fucking live.

I can live –
In the world –
With the people.

I can live in the world with the people if they understand that
All a poet is is some bitch
Who thinks she's better
And feels sort of bad about it
But not, not really that bad more like
Feels bad
For feeling bad
At all.

Also, I need a lot of money.
So I could have a lot of money.
That's why I need it.

I need a lot of money.
So I can have it.
Because I need to have money.

From I have to live by Aisha Sasha John
Copyright © 2017 by Aisha Sasha John
Enjoy Aisha Sasha John's reading of this poem as part of the 2018 livestream of the Griffin Poetry Prize readings at Koerner Hall, starting at 1:57:30.
More about Aisha Sasha John
The following are links to other Web sites with information about poet Aisha Sasha John.
Have you read I have to live by Aisha Sasha John? Add your comments to this page and let us know what you think.
Photo credit:
Aisha Sasha John, by Yuula Benivolski