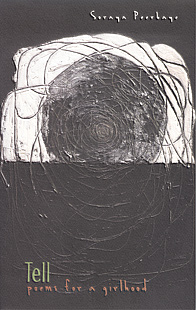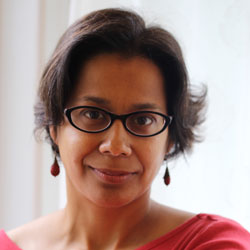 Biography
Soraya Peerbaye's first collection of poetry, Poems for the Advisory Committee on Antarctic Names, was nominated for the Gerald Lampert Award. Her poems have appeared in Red Silk: An Anthology of South Asian Women Poets (2004), edited by Priscila Uppal and Rishma Dunlop, as well as the literary journals Other Voices, Prairie Fire and The New Quarterly; she has also contributed to the chapbook anthology Translating Horses. She holds an MFA in Creative Writing from the University of Guelph. Peerbaye lives in Toronto with her husband and daughter.
Judges' Citation
"Harrowing and deeply empathetic, Tell: poems for a girlhood traces the events surrounding the 1997 murder of teenager Reena Virk by a group of high school classmates. Peerbaye bears brave witness to the unspeakable brutality of these events, drawing from testimonies of the convicted, the victim's autopsy report, and a history of the landscape itself. And yet, the power of this book derives only partly from the unbearable facts of violence, hatred, and alienation. The true miracle of Tell is not merely its choice to sing of such things, but its ability to sing in such a way as to urge the reader to embrace painful sympathies. Peerbaye's language becomes a vehicle not just for exploring what others in the world may be capable of, but also of drawing readers into excruciating proximity with our own adolescent longing, fear, shame and rage."
Summary
Reena Virk was a girl of South Asian descent who was murdered on November 14th, 1997, in Saanich, British Columbia. At least eight young people participated in the initial assault, while more looked on. Seven of her assailants were girls; five were white. Virk rose from that beating and walked north across a bridge toward home. Her drowned body was found in the Gorge Waterway. In Tell: poems for a girlhood, without a trace of sentimentality and with heart-wrenching courage, Soraya Peerbaye gathers evidence into an entire poetic vision of contemporary adolescent fury and angst.
Note: Summaries are taken from promotional materials supplied by the publisher, unless otherwise noted.
Soraya Peerbaye reads Beauty
Beauty

Scar-shine of knees,
spine, scoliosed with shy.
Seahorse spine. Could she
come out of her shell?
Home, I locked my door, stood
against the wall, naked,
slid a hand into small
of back. Pressed spine
toward knuckles. Jutting
hipbone, sacrum, black-mounded
pubis, parts of the body I hated
for being sex when nothing of me
could be wanted.

Looked in the mirror
to the girl there, grey-green-
tinged, emerald only
on the bevelled edge. Turned
the pages of my beauty books
to learn how to have
a back like theirs, skin
like theirs, eyes. That one
in lotus pose, spine
the imprint a rivulet
leaves. That one
with her morning ritual,
thin circlets of cucumber
over her eyes,
so lucent I could see
her closed eyelids
beneath milky green.

From Tell: poems for a girlhood by Soraya Peerbaye
Copyright © 2015 by Soraya Peerbaye
More about Soraya Peerbaye
The following are links to other Web sites with information about poet Soraya Peerbaye. (Note: All links to external Web sites open in a new browser window.)
Have you read Tell: poems for a girlhood by Soraya Peerbaye? Add your comments to this page and let us know what you think.