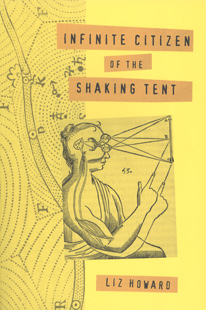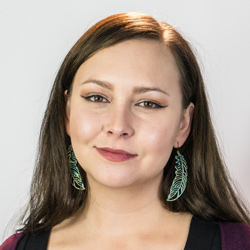 Biography
Liz Howard was born and raised in northern Ontario. She received an Honours Bachelor of Science with High Distinction from the University of Toronto. Her poetry has appeared on Canadian literary journals such as The Capilano Review, The Puritan, and Matrix Magazine. Her chapbook Skullambient was shortlisted for the 2012 bpNichol Chapbook Award. She recently completed an MFA in Creative Writing through the University of Guelph and works as a research officer in cognitive psychology at the University of Toronto.
Judges' Citation
"With penetrating intelligence and playful musicality, Liz Howard's ambitious debut collection keeps us delightfully off-balance with its mix of lyricism and experiment, allusion and invention. In her efforts 'to dream a science that would name me,' Howard explores a dizzying array of texts and landscapes, from Dante to Erin Mouré, from logging camps to high school dances. But for a poet so attuned to the self as 'a fictive province,' we are all 'infinite citizens,' constructed of dredged materials and fraught histories. Howard is capable of thrilling leaps of language, repurposing Longfellow's Song of Hiawatha or imagining an oddly tender childhood memory of a 'boreal swing' made from the carcass of a moose. These poems are filled with energy and magic, suspended between competing inheritances, at home in their hyper-modern hybridity. Infinite Citizen of the Shaking Tent confronts its legacies with vivid imagery and crackling language, and introduces us to a bold, original poetic voice."
Summary
In Liz Howard's wild, scintillating debut, the mechanisms we use to make sense of our worlds – even our direct intimate experiences of it – come under constant scrutiny and a pressure that feels like love. What Howard can accomplish with language strikes us as electric, a kind of alchemy of perception and catastrophe, fidelity and apocalypse. The waters of northern Ontario shield country are the toxic origin and an image of potential. A subject, a woman, a consumer, a polluter; an erotic force, a confused brilliance, a very necessary form of urgency – are all loosely tethered together and made somehow to resonate with our own devotions and fears; made "to be small and dreaming parallel / to ceremony and decay."
Note: Summaries are taken from promotional materials supplied by the publisher, unless otherwise noted.
Liz Howard reads Thinktent
Thinktent

I am my world. (The microcosm.)
– Ludwig Wittgenstein

Hospitality: the first demand
what is your name?
the city bound me so I entered

to dream a science that would name me
daughter and launch beyond
grief, that old thoracic cause

myocardium: a blood-orange foundry
handed down by the humoral
anatomists and not be

inside my own head perpetually
not simply a Wittgenstein's girl
but an infinite citizen in a shaking tent

If you are in need of an answer
consult a jiisakiiwinini
scientific rigour
psychoanalysis
the unconscious a construct
method amphibious
of two minds
that's the translator
her task to receive
the call that comes
down the barrel
of the future

all of us a congress
of selves a vibrational chorus
I know myself to be a guest
in your mind a grand lodge
of everything I long to know and hold
within this potlatch we call
the present
moment

If I speak of the night
speak its illicit cerebrum
of branches and back seats
speak beyond our future
a thinkable urn

my empirical training
my non-status brow ridge
indivisible and glistening

every time I tease a thread of being
from its moment in standard time

let's elevate the coordinates of distress
take it all in
I'm all in and over the limit

the limit, the eliminative, the lumens, the mens rea, the loom

to be a shopkeep in the showroom of nouns
what to purchase and what
to disavow

speak with saffron

speak of just the small bits, atomic

speak of the inevitable curve in the data

all foreclosed upon and glimmering

like a good bitch in the brine of night

I haven't nearly enough heat here

in this stakeout

the sky died and I'm its anima in the pitch thickets

I have fingers with which to squish

pin cherries and rosehips

dogwood, I have begun

to hear a rosary of pure tones, the colony

hear its call toward disorder

citizens, I have never

been dishonest in my horror

the underclass of our era

a requisite paternity test

dominus

in excelsis

From Infinite Citizen of the Shaking Tent by Liz Howard
Copyright © 2015 by Liz Howard
More about Liz Howard
The following are links to other Web sites with information about poet Liz Howard. (Note: All links to external Web sites open in a new browser window.)
Have you read Infinite Citizen of the Shaking Tent by Liz Howard? Add your comments to this page and let us know what you think.
Photo credit: Ralph Kolewe