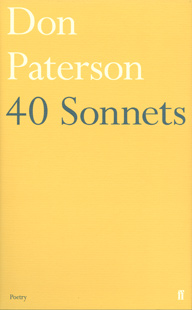 Book: 40 Sonnets
Poet: Don Paterson
Publisher: Faber and Faber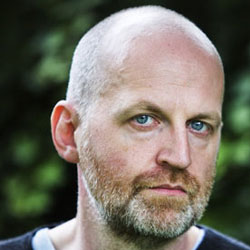 Biography
Don Paterson was born in Dundee in 1963. His previous poetry collections include Nil Nil, God's Gift to Women, Landing Light and Rain. He has also published two books of aphorisms, as well as translations of Antonio Machado and Rainer Maria Rilke. His poetry has won many awards, including the Whitbread Poetry Prize, the Geoffrey Faber Memorial Prize and all three Forward Prizes; he is currently the only poet to have won the T.S. Eliot Prize twice. He was awarded the Queen's Gold Medal for Poetry in 2009. He is a Fellow of the Royal Society of Literature, the English Association and the Royal Society of Edinburgh, and is currently Professor of Poetry at the University of St. Andrews. Since 1997 he has been poetry editor at Picador Macmillan, and he also works as a jazz musician and composer. He lives in Edinburgh.
Judges' Citation
"About half the poems in Don Paterson's latest book are strict sonnets and half are wild or disobedient sonnets (four beats to a line, one word to a line, one word to a whole poem or sometimes just plain prose) but these variants of one form work together to make a fascinating and sustained piece of music, like a fugue. The poems use their patterns to think through questions about consciousness. They are smart and exact but at the same time surprisingly emotional. Since 1993 Paterson has been eroding his style from the light loose poems of Nil Nil towards the spare almost mathematical brilliance of this book. He can write now with resonant clarity about anything: his dog, his children, the air, Dundee Council, Tony Blair, the soul. The melody of the sonnet form gives all these subjects an unstrained seriousness. 40 Sonnets is a wonderful offering, patiently made."
Summary
40 Sonnets, Don Paterson's first collection since the Forward Prize-winning Rain, is a rich and accomplished work from one of the foremost poets writing in English today. While some take a traditional form, and some are highly experimental, all these poems show the rare intelligence and lyric gift that has been the hallmark of his work since his first book, Nil Nil, in 1993. Addressed to friends and strangers, the living and the dead, to children, poets, musicians and dogs – as well to as the author himself – these poems display an ambition in their scope and tonal range matched by the breadth of their concerns.
Note: Summaries are taken from promotional materials supplied by the publisher, unless otherwise noted.
Don Paterson reads Mercies
Mercies

She might have had months left of her dog-years,
but to be who? She'd grown light as a nest
and spent the whole day under her long ears
listening to the bad radio in her breast.
On the steel bench, knowing what was taking shape
she tried and tried to stand, as if to sign
that she was still of use, and should escape
our selection. So I turned her face to mine,
and seeing only love there – which, for all
the wolf in her, she knew as well as we did –
she lay back down and let the needle enter.
And love was surely what her eyes conceded
as her stare grew hard, and one bright aerial
quit making its report back to the centre.

From 40 Sonnets by Don Paterson
Copyright © 2015 by Don Paterson
More about Don Paterson
The following are links to other Web sites with information about poet Don Paterson. (Note: All links to external Web sites open in a new browser window.)
Have you read 40 Sonnets by Don Paterson? Add your comments to this page and let us know what you think.
Photo credit: Murdo Macleod