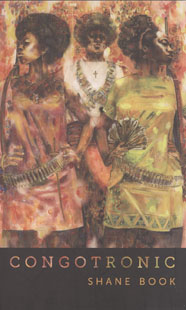 Book: Congotronic
Poet: Shane Book
Publisher: House of Anansi Press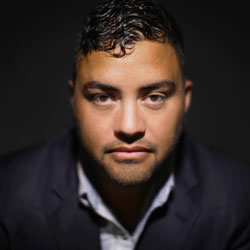 Biography
Shane Book is an award-winning poet and filmmaker. He was educated at the University of Victoria, the Iowa Writers' Workshop and Stanford University where he was a Wallace Stegner Fellow. His writing has appeared in more than twenty anthologies, including The Great Black North: Contemporary African Canadian Poetry.
Judges' Citation
"Here is a contemporary world music that whirls the reader into the centre of the action at once. Here is a spread of thoughts with a winning beat, a door held open to varieties of sound and content from multiple cultures. In these beautifully adept pages, English as we know it is not the only language we are reading but a spread of voices receptive to webs and forms from everywhere else. It's a new poetics but also wholly recognizable in its content. An outcry written to be heard while reading: this poetry signals a breakthrough necessary, innovative and emotionally piercing."
Summary
Congotronic is the second collection from Canadian poet and filmmaker Shane Book. At once original, strange, funny and unnerving, Congotronic takes the reader into unstable territory, where multiple layers of voice, diction and music collide. Some of these poems have the sparse directness of a kind of bleak prayer; others mingle the earthbound rhythms of hip-hop with the will-to-transcendence of high Romanticism.
Note: Summaries are taken from promotional materials supplied by the publisher, unless otherwise noted.
Shane Book reads World Town
World Town

Entirely windless, today's sea; of these waters' many names
the best seemed "field-of-pearl-leaves," for it smelled like the air
in the house he built entirely of doors: pink school door,
gold of the burnt hotel, two old church blues, the abandoned
bank's steel doors singular and immovably wedged over
the family's heads though as with everything corroding
the sense of themselves slipping away in the heat,
falling through the day's brightness the way soldiers
once fell upon him walking home with a bucket of natural
water as he had been recalling the town square
before the tannery's closing: he and his father shopping
on horseback in the noon Praça where they first saw
a man crouched under a black shroud, what his father called
a camera. His father forgot the incident immediately, but
for years the man asked whomever if they remembered
a camera, vegetable stalls, the butcher holder the cleaver,
a horseshoeing shop, purple berries, the long cassava valley haze,
fishnets, a few crab baskets and browning nets
drying by the ice cream shop, seven taverns,
a small, unused ferry terminal, a map on its wall outlining
the island in blue, the names Good Dispatch, Lover's Bridge
pointed to by a mermaid of skin whiter than anyone
on this island of Angola's descendants, her red hair.

From Congotronic by Shane Book
Copyright © Shane Book 2014
More about Shane Book
The following are links to other Web sites with information about poet Shane Book. (Note: All links to external Web sites open in a new browser window.)
Have you read Congotronic by Shane Book? Add your comments to this page and let us know what you think.
Photo credit: Grace Image Photography, Jeni Fong