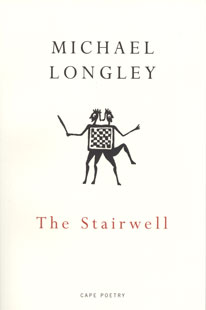 Book: The Stairwell
Poet: Michael Longley
Publisher: Jonathan Cape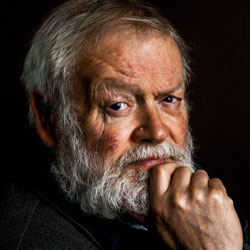 Biography
Michael Longley was born in Belfast in 1939. He has published nine collections of poetry including Gorse Fires (1991) which won the Whitbread Poetry Award, and The Weather in Japan (2000) which won the Hawthornden Prize, the T.S. Eliot Prize and the Irish Times Poetry Prize. In 2001 he received the Queen's Gold Medal for Poetry and in 2003 the Wilfred Owen Award. He was awarded a CBE in 2010 and was Ireland Professor of Poetry, 2007-2010.
Judges' Citation
"Part of the excitement and pleasure of Michael Longley's The Stairwellcomes from the quiet unpredictability of what his language does. It is modest and unassuming, yet bold in its deceptively small meditations. His sentences achieve their goals through sophisticatedly simple means: Longley loves to understate (or underplay), retard (and see how far he can go), imply, question, and enumerate (long enumeration in short poems is part of his signature). This book, including the elegy sequence that comprises the whole second section, is a masterly realization of the light touch he brings to serious subjects, as if sentences were his way of breathing. And they do not behave conventionally, despite his life-long study of such basic things as love, friendship, death, experience, memory, historical memory included, and of some other disciplines that go along with them, like learning to know nature for instance. There's also a lot to learn from Michael Longley – part of the pleasure is the detailed knowledge and wisdom the poems bring. While greatly attached to certain classical rules, Longley has always paid homage to them so interestingly, simultaneously mastering and subverting them. The Stairwellis a book by a major poet writing at the height of his powers."
Summary
The psychologically suggestive word 'stairwell' is in itself ambiguous. In his tenth collection of poems Michael Longley writes of birth as well as death, childhood and age, nature and art, the animal and human worlds, tenderness and violence, battlefield and 'homeland'. Longley has built this collection on intricate doublings; the second part of the book is a powerful sequence of elegies for his twin brother, Peter, and elsewhere the dominant mood is elegiac.
Note: Summaries are taken from promotional materials supplied by the publisher, unless otherwise noted.
Michael Longley reads Boy-Soldier
Boy-Soldier

The spear-point pierces his tender neck.
His armour clatters as he hits the ground.
Blood soaks his hair, bonny as the Graces',
Braids held in place by gold and silver bands.
Think of a smallholder who rears a sapling
In a beauty spot a burn burbles through
(You can hear its music close to your home)
Milky blossoms quivering in the breeze.
A spring blizzard blows in from nowhere
And uproots it, laying its branches out.
Thus Euphorbus, the son of Pantheus,
A boy-soldier – the London Scottish, say,
The Inniskillings, the Duke of Wellington's –
Was killed and despoiled by Menelaus.

From The Stairwell by Michael Longley
Copyright © Michael Longley 2014
More about Michael Longley
The following are links to other Web sites with information about poet Michael Longley. (Note: All links to external Web sites open in a new browser window.)
Have you read The Stairwell by Michael Longley? Add your comments to this page and let us know what you think.
Photo credit: Bobbie Hanvey