Book: Blue Sonoma
Poet: Jane Munro
Publisher: Brick Books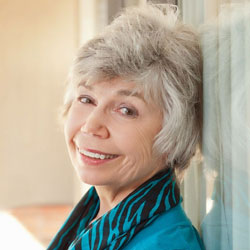 Biography
Jane Munro is the author of five previous books of poetry, most recently Active Pass (2010) and Point No Point (2006). Her work has received the Bliss Carman Poetry Award, the Macmillan Prize for Poetry and been nominated for the Pat Lowther Award. She is a member of Yoko's Dogs (Jan Conn, Mary di Michele, Susan Gillis, Jane Munro), a poetry collective whose first book Whisk was published in 2013. After living for twenty years on the southwest coast of Vancouver Island, she has now returned to Vancouver.
Judges' Citation
"Somewhere between the directness and clarity of haiku and Yeats's 'An aged man is but a paltry thing' moves Jane Munro's hauntingly candid explorations of the hard truths of growing old. But Blue Sonoma unflinching as its poems are in their wrestling with a partner's Alzheimer's, with memory, death, and dying, and with the inexorable advance of time, achieves an engaging liveliness as a result of the poet's earthy voice, colloquial wit, and acute descriptive powers. For Munro, language, travel, and art are the 'props/in a little, local theatre of light', and this theatre's relationship to other worlds, other possible states of consciousness, repeatedly leavens Blue Sonoma's painful content with wisdom and delicacy. In primarily short lines of impressive transparency, Munro's writing, replete with natural images of Canada's west coast, celebrates, even as it confronts with blunt honesty, the sensuous passage through the years towards whatever transition must follow. 'And us, were we substance or reflection?' The question hovers over this gathering of deeply meditative and viscerally felt poems and leads us, with gentleness but no apology, into the realm of riveting and ultimate contemplation."
Summary
In Blue Sonoma, award-winning poet Jane Munro draws on her well-honed talents to address what T.S. Eliot called "the gifts reserved for age". A beloved partner's crossing into Alzheimer's is at the heart of this book and his "battered blue Sonoma" is an evocation of numerous other crossings: between empirical reportage and meditative apprehension, dreaming and wakefulness, Eastern and Western poetic traditions. Rich in both pathos and sharp shards of insight, Munro's wisdom here is deeply embedded, shot through with moments of wit and candour. In the tradition of Taoist poets like Wang Wei and Po-Chu-i, her sixth and best book opens a wide poetic space and renders difficult conditions with the lightest of touches.
Note: Summaries are taken from promotional materials supplied by the publisher, unless otherwise noted.
Jane Munro reads from The Old Man Vacanas
from The Old Man Vacanas

1

The old man
to whom I'm married
hits the sack again
after breakfast.

A black bear
out in the rain
on Blueberry Flats.

Is it too wet
to hibernate? The muddy creek
burgeoning.

By lunch, he's up.
The sky's no lighter – candles
with our tea.

Tell me, can a soul
fatten up for winter?

5

The old man who picks up the phone
does not get your message.

Call again.
Please call again.

The cats leave squirrel guts
on the Tibetan rug.
Augury I cannot read.

You've got to talk with me.
I scrape glistening coils
into a dust pan,
spit on drops of blood and spray ammonia.

The blood spreads into the white wool.

I am so sick of purring beasts.

Don't tempt me, old man.
Today I have four arms
and weapons in each hand.

11

The old man
takes his choppers out
when chicken sticks to them.

He parks them in a glass
of blue fizz.

DNA from fossil bones
tells us we're siblings to Neanderthals –

and the small arrangements
we make? Language, travel, art? Props
in a little, local, theatre of light.

From Blue Sonoma by Jane Munro
Copyright © Jane Munro 2014
More about Jane Munro
The following are links to other Web sites with information about poet Jane Munro. (Note: All links to external Web sites open in a new browser window.)
Have you read Blue Sonoma by Jane Munro? Add your comments to this page and let us know what you think.