Biographies
Eleanor Goodman is a writer and translator. She is a Research Associate at the Fairbank Center at Harvard University and spent a year at Peking University on a Fulbright Fellowship. Her book of translations, Something Crosses My Mind, by Wang Xiaoni was the recipient of a 2013 PEN/Heim Translation Grant. Goodman has been an artist in residence at the American Academy in Rome, was awarded a Henry Luce Translation Fellowship from the Vermont Studio Center and received the International Merit Award in Poetry from the Atlanta Review. Her work appears in publications such as PN Review, The Quarterly Conversation, Fiction, Pathlight, Cha, The Guardian, Pleiades, Acumen, Perihelion, The Los Angeles Review and on The Best American Poetry web site.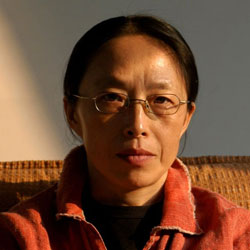 Wang Xiaoni was born in Changchun, Jilin, near the border with North Korea, in 1955 and spent seven years as a laborer in the countryside during the Cultural Revolution. In 1977 she was accepted into the Chinese Department at Jilin University and in 1985 she moved to Shenzhen, in southern China. She is one of the few women associated with the "Misty" poets, though her poetry tends to focus on what she calls "the complex state of the human psyche" and avoids the overtly political. Wang has worked as a film script editor and college professor. Her publications include more than twenty five books of poetry, essays and novels.
Judges' Citation
"What is so attractive about Wang Xiaoni's poems as translated into English by Eleanor Goodman is her quiet, loving, meditative distance to the mostly anonymous and lonely heroes she clearly knows well. And her attitude to time, which she keeps dragging out of its anchored localities (and barely marked history) to extend and connect, or fuse with specific spaces that she also enlarges in size and scope. Moments prolong into a century or a life, imaginary beasts meld with real animals, description becomes an act of meditation. In a few lines, a village can take on the dimension of a vast landscape – and yet still remain that particular village. And while Xiaoni's characters may not speak, they seem to have a real insight into our experience and lives. In a way nothing much happens in her magic lyricism: the wind blows, the ocean rises, people work or move from one place to another, or wait, or just leave some place, and they have souls (which behave like shadows); someone on a journey sees them, through the window, between one landscape and another, and it's difficult to know why all this is so moving. Reading her, I found myself repeating Auden's phrase "About suffering they were never wrong, / The old Masters." Wang Xiaoni is a terrific contemporary poet gracefully extending the great classical Chinese tradition."
Summary
Something Crosses My Mind spans twenty years of Wang Xiaoni's poetry and is her first book to appear in English. It is part of the "Jintian Series" of books of contemporary Chinese poets, published by Zephyr Press in conjunction with the Jintian Foundation of Hong Kong and the Chinese University Press.
Note: Summaries are taken from promotional materials supplied by the publisher, unless otherwise noted.
Eleanor Goodman and Wang Xiaoni read from Something Crosses My Mind
Meeting Death's Envoy on a Winter Afternoon

That messenger with his hands tucked in the sleeves of his silver jacket.

From across the table, we watch
red navel oranges roll all over the table.
The light leaps over to illuminate me
outside the palm trees look like flattened corpses
ancient warriors receiving their punishment.

He's nondescript, a faithful man
one who could be called trustworthy.
Behind silence's back silence speaks quickly
as though signing off on a timetable for the future.

I still can't tunnel out from my insides.
It's no good to run
no good to struggle
no good to leap away.
The most I can do is to try to move heaven and earth
is to sit lazily in this listless afternoon.
Time has treated me badly
all I can do is shun him.

The moon rises, goes to ring its small gong
I open the door, and Death's messenger and I part ways
I use dusk's last light to send him off.

From Something Crosses My Mind by Eleanor Goodman translating from Chinese by Wang Xiaoni

Copyright © Eleanor Goodman 2014
More about Eleanor Goodman and Wang Xiaoni
The following are links to other Web sites with information about translator Eleanor Goodman and poet Wang Xiaoni. (Note: All links to external Web sites open in a new browser window.)
Have you read Something Crosses My Mind by by Eleanor Goodman translating from Chinese by Wang Xiaoni? Add your comments to this page and let us know what you think.