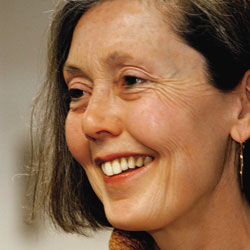 Biography
Anne Carson was born in Canada and has been a professor of Classics for over 30 years. She was twice a finalist for the National Book Critics Circle Award; was honored with the 1996 Lannan Award and the 1997 Pushcart Prize, both for poetry; and was named a MacArthur Fellow in 2000. In 2001 she received the T.S. Eliot Prize for Poetry – the first woman to do so, the 2001 Griffin Poetry Prize and the Los Angeles Times Book Prize. She currently teaches at the University of Michigan and lives in Ann Arbor.
In 2020, Anne Carson was awarded Spain's prestigious Princess of Asturias Award for Literature. The jury of the literature award — one of the eight handed out annually by a foundation named after the heir to the Spanish throne, said that Carson "has reached a level of intensity and intellectual solvency that place her among the most outstanding writers of the present" (as reported by CBC News.)
Judges' Citation
"Red Doc>, Anne Carson's return to the characters of Autobiography of Red, stands on its own columns with pedestals in the fragments of Stesichorus's account of Herakles' final labor – to steal the red cattle of the monster Geryon. The narration puts the gaps to task. What is taken up again, more significantly than an update of Autobiography, is a daunting writer having her particular way with the language. Amid marvels of toaster-sized ice bats, barn-sized crows, and a silver-tuxedoed Hermes in humanlike form, is a dying mother's request of the daughter to pluck the hairs from her chin. Geryon returns middle-aged, Herakles, a damaged war veteran. Sexual bent is irrelevant; nature outsized, glacial and volcanic. Words are rescued, morphed and slapped awake. Speech hurtles from vulgar to sublime. Everything accelerates except when a break is introduced disguised as riff, list or song and the mead is served in golden cups."
Summary
In a stunningly original mix of poetry, drama and narrative, Anne Carson brings the red-winged Geryon from Autobiography of Red, now called "G", into manhood and through the complex labyrinths of the modern age. We join him as he travels with his friend and lover "Sad" (short for Sad But Great), a haunted war veteran; and with Ida, an artist, across a geography that ranges from plains of glacial ice to idyllic green pastures; from a psychiatric clinic to the somber house where G's mother must face her death. Haunted by Proust, juxtaposing the hunger for flight with the longing for family and home, this deeply powerful verse picaresque invites readers on an extraordinary journey of intellect, imagination and soul.
Note: Summaries are taken from promotional materials supplied by the publisher, unless otherwise noted.
from Red Doc>

I AM VERY he says tilting into the room and stops. Happy

to see you man but I'm not
sure you're real. Tell me
you're real. 4NO looks at
him upside down then
unfolds from his
headstand. Bad night?
says 4NO. But Sad is
straying about the room
touching all the chairs one
by one. Chairs he says. I
missed you. His voice is
soft. His eyes drift off.
4NO watches him
fragilely. Every molecule
of Sad and Sad's bad
future is advancing
through 4NO's retinal
surface. Like perfect
works of art they form a
sparkling flood. They
saturate him and
confiscate the present
moment. He closes his
eyes against this
unbearable excess and
gathers his mind to a
point. It breaks through
the white. He opens his
eyes. At ease soldier he
says to Sad. Nobody's
here yet. I'm just
stretching. Sad smiles and
then forgets not to. The
smile stays on his face.

From Red Doc> by Anne Carson
Copyright © 2013 by Anne Carson
Anne Carson reads from Short Talks
Short Talk on Gertrude Stein About 9.30

How curious. I had no idea! Today has ended

Short Talk on Reading

Some fathers hate to read but love to take the family on trips. Some children hate trips but love to read. Funny how often these find themselves passengers in the same automobile. I glimpsed the stupendous clear-cut shoulders of the Rockies from between paragraphs of Madame Bovary. Cloud shadows roved languidly across her huge rock throat, traced her fir flanks. Since those days I do not look at hair on female flesh without thinking, Deciduous?

Short Talk On The Sensation Of Aeroplane Takeoff

Well you know I wonder, it could be love running towards my life with its arms up yelling let's buy it what a bargain!

From Short Talks by Anne Carson
Copyright © Anne Carson, 1992
More about Anne Carson
The following are links to other Web sites with information about poet Anne Carson. (Note: All links to external Web sites open in a new browser window.)
Have you read Red Doc> by Anne Carson? Add your comments to this page and let us know what you think.
Photo credit: Peter Smith