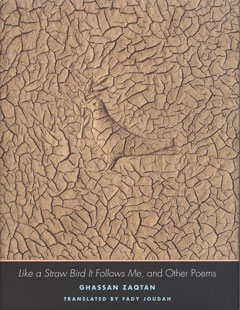 Biographies
Fady Joudah is a practicing physician of internal medicine and an award-winning poet and translator. Among his translations are two poetry collections by Mahmoud Darwish, The Butterfly's Burden (2007) and If I Were Another, for which he won the 2010 PEN USA Literary Award. He lives in Houston, Texas.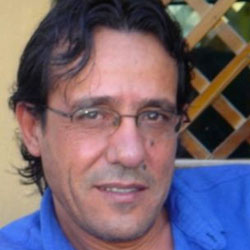 Palestinian poet Ghassan Zaqtan is a novelist, editor, and the author of ten collections of poetry. He was born in Beit Jala, near Bethlehem, and has lived in Jordan, Beirut, Damascus and Tunis. He returned to Palestine in 1994 and now lives in Ramallah.
Judges' Citation
"What does poetry do? Nothing and everything, like air, water, soil, like birds, fish, trees, like love, spirit, our daily words … It lives with us, in and outside us, everywhere, all the time, and yet, we are too often oblivious of this gift. It's a poet's job to bring this gift out and back, this gift that makes us human again. And Mr. Zaqtan has done it. His poetry awakens the spirits buried deep in the garden, in our hearts, in the past, present and future. His singing reminds us why we live and how, in the midst of war, despair, global changes. His words turn dark into light, hatred into love, death into life. His magic leads us to the clearing where hope becomes possible, where healing begins across individuals, countries, races … and we are one with air, water, soil, birds, fish, trees … our daily words pregnant with beauty, and we begin to sing again till ' … the singer / and the song / are alike (Biography in Charcoal)'. This is Mr. Zaqtan's only 'profession'. It's now also ours. About the translation: as a translator of poetry myself, I know the danger, frustration and the joy in the process of catching the fire from the original and delivering it through/into another language, another culture, another sentiment. Mr. Joudah delivered with such grace and power. My salute to Mr. Joudah, as translator to translator, as poet to poet, as doctor to doctor." – Wang Ping
Summary
In this inspired translation of Like a Straw Bird It Follows Me, and Other Poems, Ghassan Zaqtan's tenth and most recent poetry collection, Fady Joudah brings to English-language readers the best work by one of the most important and original Palestinian poets of our time. With these poems Zaqtan enters new terrain, illuminating the vision of what Arabic poetry in general and Palestinian poetry in particular are capable of. Departing from the lush aesthetics of such celebrated predecessors as Mahmoud Darwish and Adonis, Zaqtan's daily, delicate narrative, whirling catalogues, and at times austere aesthetics represent a new trajectory, a significant leap for young Arabic poets today.
Note: Summaries are taken from promotional materials supplied by the publisher, unless otherwise noted.
Fady Joudah and Ghassan Zaqtan read You're Not Alone in the Wilderness from Like a Straw Bird It Follows Me, and Other Poems
You're Not Alone in the Wilderness

In Jabal Najmeh, by the woods, the wizard will stop me
by a passage for boats with black masts
where the dead sit before dawn in black garments and straw masks,
a passage for the birds
where white fog swims and gates open in the brush
and where someone is talking down the slope
and bells are heard and the rustles of flapping wings

resemble the forest passing over the mounting and nicking the night!

… and peasants, fishermen and hunters, and awestruck soldiers, Moabite,
Assyrian, Kurd, Mamluk, Hebraic with claims
from Egypt, Egyptians on golden chariots, nations
from white islands, Persians with black turbans,
and idolater-philosophers bending the reeds
and Sufis seeking the root of ailment …

the flapping of wings drags the forest toward the edges of darkness!

In Jabal Najmeh, by the woods
where the absentee's prayer spreads piety's rugs
and the canyon is seen through to its limits,
the furrowed sea scent cautiously passes by
and the cracks are like a jinn's harvest
and the monks' pleas glisten
as I glimpse the ghosts of lepers sleeping on decrepit cypress

In Jabal Najmeh, by the woods,
I will hear a familiar old voice,
my father's voice throwing dice toward me

Or Malek's voice
as he tows a blond horse behind him in his elegy

Or the voice of Hussein Barghouthi
laid to rest beneath almond trees
as he instructed in the text

And my voice:
You're not alone in the wilderness!

From Like a Straw Bird It Follows Me, and Other Poems, Ghassan Zaqtan translated by Fady Joudah
Translation copyright © 2012 by Fady Joudah
More about Fady Joudah and Ghassan Zaqtan
The following are links to other Web sites with information about translator Fady Joudah and poet Ghassan Zaqtan. (Note: All links to external Web sites open in a new browser window.)
Have you read Like a Straw Bird It Follows Me, and Other Poems, Ghassan Zaqtan translated by Fady Joudah? Add your comments to this page and let us know what you think.