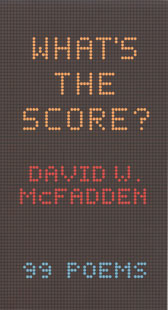 Biography
David W. McFadden began writing poetry in 1956 and began publishing poetry in 1958. Why Are You So Sad? Selected Poems of David W. McFadden (2007) was shortlisted for the 2008 Griffin Poetry Prize and Be Calm, Honey (2008) was shortlisted for the 2009 Governor General's Literary Award for Poetry (his third such nomination). McFadden is the author of about thirty-five books of poetry, fiction and travel writing. He lives in Toronto.
The Griffin Trust For Excellence In Poetry is deeply saddened to learn of David's passing on June 6, 2018. We offer our most profound condolences to his beloved partner Merlin Homer and to the countless lovers of poetry who were delighted by his wry, perceptive words and were privileged to experience his wit, intelligence, kind mentoring, friendship and inspiration.
Judges' Citation
"'If the fool would persist in his folly, he would become wise,' advised William Blake in his Proverbs of Hell. As if whispering through the ages into the ear of Canada's deadpan court jester, Blake's radical spirit slyly presides over David McFadden's exuberant thirty-fifth publication, What's The Score? With their arch yet affable tone, these ninety-nine irreverent and mock-earnest poems lay siege to the feelings of boredom, anxiety, and alienation that afflict a culture obsessed with wealth and prestige, leading us, again and again, down the road of excess to the palace of wisdom. 'My poems go leaping from crag to crag,' McFadden boasts in one poem, before quickly, and characteristically, scuttling this Romantic image of the egotistical sublime 'like a stubble-faced crybaby, it's probably / because I've been writing for so long, / forty years of poems to various friends.' The easy, casual intimacy of these poems will befriend you on the first page. Their astonishing leaps and their genuine philosophical urgency will compel you to keep reading. 'Stick around,' invites this artful and knowing wise fool, 'everyone should have a chorus / following his steps and reminding him / of his central role in some great dream.'" – Suzanne Buffam
Summary
The often outrageous and always wise follow-up to 2008's Governor General's Award-nominated Be Calm, Honey shows David W. McFadden at his most inquisitive and provocative. Here you'll find ninety-nine poems full of surprises by a Canadian long-distance poet in his sixth decade of writing, a writer who never rests on his laurels or allows himself to become complacent. This is a book full of mystics and Golden Age movie stars, friends of McFadden and long-dead philosophers, and their tales are all told in the poet's deceptively plainspoken voice.
Note: Summaries are taken from promotional materials supplied by the publisher, unless otherwise noted.
David McFadden reads It's Not Funny Anymore
It's Not Funny Anymore

There's no aces in my deck.
There's no biscuits in my bowl.
There's no conquistadors on my continent.
There's no dragon in my den.
There's no ease in my delivery.
There's no fizz in my fandango.
There's no gate in my fence.
There's no housewife in my hovel and furthermore
There's no heaven in my vocabulary.

There's no ice cream in my freezer.
There's no juice in my red-hot blender.
There's no ketchup on my french fries.
There's no limousine waiting for me.
There's no mustard on my hot dog and I also just noticed that
There's no monkey in my tree.

There's nothing nice about my knobby knee.
There's no over in my underwear.
There's seldom any prisoner in my cell.
There's very little quiet in my quintessence.
There's no rhododendrons in my rock garden.
There's no stallion in any of my stables.
There's no talcum powder on my tray.
There's no umbrella in my understanding.
There's no violin in my orchestra.
There's no water not even in my bathtub.
There's no xylophone under my Xmas tree.
There's no yarmulke in my youth and I'd just like to say
There's hardly any zither in my Zen.

From What's the Score? by David McFadden
Copyright © 2012 David W. McFadden
More about David McFadden
The following are links to other Web sites with information about poet David McFadden. (Note: All links to external Web sites open in a new browser window.)
Have you read What's the Score? by David McFadden? Add your comments to this page and let us know what you think.