Book: Our Andromeda
Poet: Brenda Shaughnessy
Publisher: Copper Canyon Press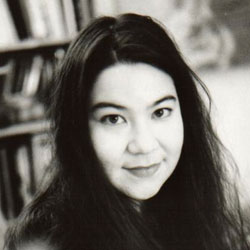 Biography
Brenda Shaughnessy was born in Okinawa, Japan, and grew up in southern California. She is the author of Human Dark with Sugar (2008), winner of the James Laughlin Award and a finalist for the National Book Critics Circle Award, and Interior with Sudden Joy (1999). Shaughnessy's poems have appeared in Best American Poetry, Harper's, The Nation, The New Yorker, The Paris Review and The Rumpus. She is an assistant professor of English at Rutgers University, Newark and lives in Brooklyn with her husband, son and daughter.
Judges' Citation
"Brenda Shaughnessy, in her third collection, continues to work the rich verbal surfaces and punning, allusive textures that marked her previous work, but her art has been transformed by a galvanizing sense of necessity into a more riveting, sometimes fiercely direct consideration of what it is to love a child, to care for one whose ability to care for himself is profoundly limited. What Wallace Stevens called 'the pressure of reality' has deepened and furthered the work of a poet whose early poems indeed might have come from the same well as Harmonium. Without losing her music, playfulness or sass, Shaughnessy has established herself as a poet of breathtaking emotional depth; to read such clear, affirming song made out of love, grief and danger is both devastating and uplifting at once." – Mark Doty
Summary
Brenda Shaughnessy's third collection, Our Andromeda, delves into the idea of parallel existence by imagining the galaxy of Andromeda as a utopian. At once humorous and heartbreaking, fanciful and filled with difficult realities, Shaughnessy takes on the vastness of the universe by turning inward, examining human vulnerabilities as they are manifested in the struggles surrounding motherhood, human frailty, and a divided self.
Note: Summaries are taken from promotional materials supplied by the publisher, unless otherwise noted.
Brenda Shaughnessy reads Visitor
Visitor

I am dreaming of a house just like this one

but larger and opener to the trees, nighter

than day and higher than noon, and you,

visiting, knocking to get in, hoping for icy

milk or hot tea or whatever it is you like.

For each night is a long drink in a short glass.

A drink of blacksound water, such a rush

and fall of lonesome no form can contain it.

And if it isn't night yet, though I seem to

recall that it is, then it is not for everyone.

Did you receive my invitation? It is not

for everyone. Please come to my house

lit by leaf light. It's like a book with bright

pages filled with flocks and glens and groves

and overlooked by Pan, that seductive satyr

in whom the fish is also cooked. A book that

took too long to read but minutes to unread –

that is – to forget. Strange are the pages

thus. Nothing but the hope of company.

I made too much pie in expectation. I was

hoping to sit with you in a tree house in a

nightgown in a real way. Did you receive

my invitation? Written in haste, before

leaf blinked out, before the idea fully formed.

An idea like a stormcloud that does not spill

or arrive but moves silently in a direction.

Like a dark book in a long life with a vague

hope in a wood house with an open door.

From Our Andromeda by Brenda Shaughnessy
Copyright 2012 by Brenda Shaughnessy
More about Brenda Shaughnessy
The following are links to other Web sites with information about poet Brenda Shaughnessy. (Note: All links to external Web sites open in a new browser window.)
Have you read Our Andromeda by Brenda Shaughnessy? Add your comments to this page and let us know what you think.