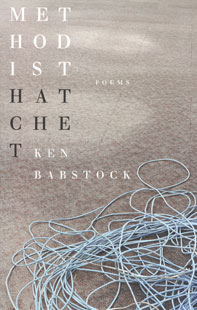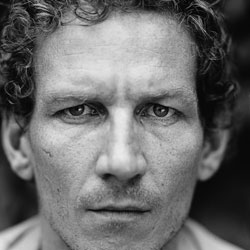 Biography
Ken Babstock was born in Newfoundland and raised in the Ottawa Valley. He is the author of three previous collections of poetry, including Airstream Land Yacht which won the Trillium Book Award, was shortlisted for the 2007 Griffin Poetry Prize and the Governor General's Literary Award and was named a Globe and Mail Top 100 book. Ken Babstock lives in Toronto.
Methodist Hatchet has also been shortlisted for the Trillium Book Award.
Judges' Citation
"Babstock is the live wire in the gene pool: stirring things up, rocking boats, disjoining easier conjunctions, jolting the culture's DNA. From sea-and-skyscapes literally lettered, from the suspect core of our 'décors? ('lost heart' informs that fashion's stock and trade), he winds past mere mundanities to find the world again, with words for his divining wands. 'Money's the more virtual virtual,' Babstock writes. 'I don't talk this way in Real Life.' Cable-stitched by shopping channels, across northernmost America and more, desire is wired: With HGTV's IV, or the PC's ICU, we feed our merchandizing minds. 'We bought this stuff,' he says. Disclosure's what he's after, as wary of the cosy center as of the so-called cutting-edge. But get a load of those poetic closures: master craft in 'Wikileaks and sea smoke' weaving worlds of words together. Man of letters, he remarks the X's on workmen's safety vests; the V's descending out of Gander, headed for the kind of down discounted in an Army-Navy store. A shapely mind will note the uppers, too; they're cut with aspirin and talc. This guy is one ferocious logophile. A signature device, the 'disconnected current gauge,' trips all the switches: current cut off into currency – but also presents. It was 'a gift,' writes Babstock, with 'its needle stilled between / 'Reverse clips' and 'Start charge.' Consult it / and it shivers on a hash mark.' Thus, in a flash, the disused item (mere décor) becomes occasion for a gift: the wordsmith talent, not the dollar sign, with other hashes hinted, other hushes marked. The old and new worlds hackable in just one comprehensive stun, this shock of shiver to be had. Methodist Hatchet lets us have it. Thus do local gifts turn into global ones."
Summary
Marooned in the shiftless, unnamed space between a map of the world and a world of false maps, the poems in Methodist Hatchet cling to what's necessary from each, while attempting to sing their own bewilderment. Carolinian forest is echoed back as construction cranes in an urban skyline. Second Life returns as wildlife, as childhood. Even the poem itself – the idea of the poem – as a unit of understanding is shadowed by a great unknowing. Fearless in its language, its trajectories and frames of reference, Methodist Hatchet gazes upon the objects of its attention until they rattle and exude their auras of strangeness. It is this strangeness, this mysterious stillness, that is the big heart of Ken Babstock's playful, fierce, intelligent book.
Note: Summaries are taken from promotional materials supplied by the publisher, unless otherwise noted.
Ken Babstock reads Hunter Deary and Hospital Wing
Hunter Deary and Hospital Wing

Hunter Deary emits noises like peach pits;
dry, scrotal humming that punctuates fits.
When a hip comes loose it comes loose
before breakfast and she pops it back in

with a winch, a rock, a clean tube and hemp belt.
Ask Hunter Deary what the microbes
are for. Ask Hunter Deary what the library's
for. Ask Hunter Deary what agent con-

tested her birthright, her staying out late, her
transmission on broadband at night.
The men in the neon X. The hole in the
plastic. The ppb. The stitches. The snug.

The snug. The stitches. The parts per billion.
Hospital Wing sings to his children.
Children of blood lung.
Children of static.
Hospital Wing sings to his children.
The snug. The stitches. The parts per billion.

Hunter Deary has clicked on the task pane
reads there what they cut from the thought:
a topographical map of the region, a vein
darkening wetlands, strung north through

some temperate zone. Hunter Deary left gas
in a bird's nest, bags under bypasses
phenobarbital in the mud of the Don. Hunter
Deary in traction. Hunter Deary in Huntsville.

She's counting down days to a hearing, fed on
black pumpkin, on cheese string, on
marrow sucked through wing of an auk. Ages
in ice bubble. Calving. The fake vermillion.

Calving. Ice bubbles. The fake vermillion.
Hospital Wing sings to his children.
Children born sexless and cleansed.
Leaded gametes in frog ponds.
Hospital Wing sings to his children.
Calving. The ages. The fake vermillion.

From Methodist Hatchet, by Ken Babstock
© 2011 Ken Babstock
More about Ken Babstock
The following are links to other Web sites with information about poet Ken Babstock. (Note: All links to external Web sites open in a new browser window.)
Have you read Methodist Hatchet by Ken Babstock? Add your comments to this page and let us know what you think.