Book: Night
Poet: David Harsent
Publisher: Faber and Faber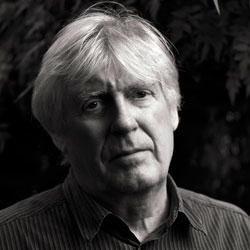 Biography
David Harsent has published nine collections of poetry. The most recent, Legion, won the Forward Prize for best collection in 2005 and was shortlisted for both the Whitbread Award and the T. S. Eliot Prize. His Selected Poems (2007) was shortlisted for the 2008 Griffin Poetry Prize.
Judges' Citation
"David Harsent conducts an examination of the human psyche that is unique in both the unflinchingness of its gaze, and the fabular metaphors it uses to explore dream, terror and hidden impulse. Truly significant poets write like no-one else, and Harsent is both sui generis and unsurpassed. In Night an extraordinary imaginary is evoked, explored and even wrought by technique that shows its hand only gradually, as the patterning of rhythmic urges and sound-chimes reveal how extraordinarily through-composed the book is. This is at the same time poetry of supreme urgency, haunted by existential and contemporary necessities in which the homeless man in the underpass, the wild Goddess of back gardens, are trickster archetypes – and are our neighbours, too. A collection of tremendous rhythmic and formal variety, one which ranges from a set of colourist Abstracts to a Ballad, is dominated, but never overshadowed, by its last quarter. Extraordinarily-sustained, with more than four hundred lines composed in septets lightly patterned with slant, blanket stitch and internal rhymes, Elsewhere is quite simply a canonical poem. It is also a quest narrative that, like all Harsent's work, seems to pass right through its own genre, and return us to its origins in psychodrama and rite."
Summary
Among the poems that open Night, David Harsent's follow-up to his Forward Prize-winning collection Legion, is a startling sequence about a garden – but a garden unlike any other. It sets the tone for a book in which the sureties of daylight become uncertain: dark, unsettling narratives about what wakes in us when we escape our day-lit selves to visit a place where the dream-like and the nightmarish are never far apart. The book culminates in the seductive and brilliantly sustained Elsewhere, a noirish, labyrinthine quest-poem in which the protagonist is drawn ever onward through a series of encounters and reflections like an after-hours Orpheus, hard-bitten and harried by memory.
Note: Summaries are taken from promotional materials supplied by the publisher, unless otherwise noted.
David Harsent reads Blue
From Abstracts – Blue

It sings they say, and so it does: something like the note
that fractures glass or gets so far below
the range of human hearing that it shakes your heart;

and the glass it breaks is blue, and that's a blue note for sure
from the guy on the alto sax in the basement dive,
which is where they're bound to meet up in the classic noir,

the private eye, the girl with a shadowy past, the old-style cop,
and it's nigh-on certain she'll have to take a bullet
or we'll see her in prison blue as they lead her to the drop.

THe fragments of glass were part of it too, that's plain,
though no one noticed, just as they failed to spot
how the crucifix in her bedroom made sense of the subtle stain

on her cocktail dress. And in this, the director's cut,
the dive is deeper, the saxophone sadder, the cop
bent as a dog's hind leg, the girl a scheming slut,

and the gumshoe comes in late with the one and only clue
that would finally set things straight, though its true
meaning is hidden from him, and lost on you.

From Night, by David Harsent
© David Harsent, 2011
More about David Harsent
The following are links to other Web sites with information about poet David Harsent. (Note: All links to external Web sites open in a new browser window.)
Have you read Night by David Harsent? Add your comments to this page and let us know what you think.
Photo credit: Simon Harsent