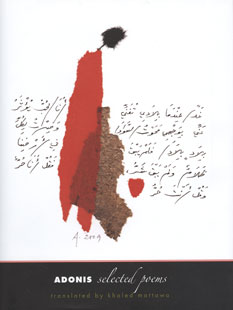 Biographies
Khaled Mattawa is assistant professor of language and literature at the University of Michigan. Born in Benghazi, Libya, he emigrated to the United States as a teenager. He is the author of four books of poetry, most recently Tocqueville, and has translated five books of Arab poetry. Mattawa has received a PEN award for literary translation, a Guggenheim fellowship, and two Pushcart Prizes. He has just been selected by the Academy of American Poets as the recipient of the 2010 Academy Fellowship.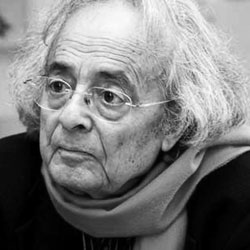 Adonis (born Ali Ahmad Said Esber) is a Syrian poet and essayist who led the modernist movement in Arabic poetry in the second half of the 20th century. He has written more than 20 books in his native Arabic, including the pioneering work An Introduction to Arab Poetics. Adonis received the Bjørnston Prize in 2007, the first International Nâzim Hikmet Poetry Award, the Syria-Lebanon Best Poet Award, and the highest award of the International Poem Biennial in Brussels. Elected a member of the Stéphane Mallarmé Academy in 1983, he lives in Paris.
Judges' Citation
"Adonis, along with Saadi Yousef and Mahmoud Darwish, has helped to bring into being modern Arabic poetry. Masterfully translated by Khaled Mattawa, his Selected Poems show a range comparable to Lorca's, stretching from the sensuous to the political. When he left the Syrian socialist party in the early Sixties, Adonis left all traditional politics behind only to become committed to deep cultural transformation through the creative energies of poetry, in a quest for what could be called an Arabic modernism. In the case of his poetry, this new mode takes the form of a combination of metaphysics, interiority and solidarity, a hybrid present as well in the poetry of Rumi and the thought of Ibn Arabi. 'I sang of gardens and a towering palace/while in wretchedness, in attics hid./Tell him who used to sleep on soft cushions/that the heights are being punished by a star.' From the swooping, Whitmanesque, epic voice of the early Songs of Mihyar of Damascus, to the erotic mysticism of the long poem 'Body' and the subdued meditations of Beginnings of the Body, Ends of the Sea, we are in the presence of a poet of global importance."
Summary
Experimental in form and prophetic in tone, Adonis's poetry sings exultantly of both the sweet promise of Eros and the lingering problems of the self. Steeped in the anguish of exile and the uncertainty of existence, Adonis demonstrates the poet's profound affection for Arabic and European lyrical traditions even as his poems work to destabilize those very aesthetic and moral sensibilities.
Note: Summaries are taken from promotional materials supplied by the publisher, unless otherwise noted.
Khaled Mattawa reads Celebrating Childhood from his translation of Adonis: Selected Poems
Celebrating Childhood from Adonis: Selected Poems, translated by Khaled Mattawa
Celebrating Childhood

Even the wind wants
to become a cart
pulled by butterflies.

I remember madness
leaning for the first time
on the mind's pillow.
I was talking to my body then
and my body was an idea
I wrote in red.

Red is the sun's most beautiful throne
and all the other colors
worship on red rugs.

Night is another candle.
In every branch, an arm,
a message carried in space
echoed by the body of the wind.

The sun insists on dressing itself in fog
when it meets me:
Am I being scolded by the light?

Oh, my past days –
they used to walk in their sleep
and I used to lean on them.

Love and dreams are two parentheses.
Between them I place my body
and discover the world.

Many times
I saw the air fly with two grass feet
and the road dance with feet made of air.

My wishes are flowers
staining my days.

I was wounded early,
and early I learned
that wounds made me.

I still follow the child
who still walks inside me.

Now he stands at a staircase made of light
searching for a corner to rest in
and to read the face of night again.

If the moon were a house,
my feet would refuse to touch its doorstep.

They are taken by dust
carrying me to the air of seasons.

I walk,
one hand in the air,
the other caressing tresses
that I imagine.

A star is also
a pebble in the field of space.

He alone
who is joined to the horizon
can build new roads.

A moon, an old man,
his seat is night
and light is his walking stick.

What shall I say to the body I abandoned
in the rubble of the house
in which I was born?
No one can narrate my childhood
except those stars that flicker above it
and that leave footprints
on the evening's path.

My childhood is still
being born in the palms of a light
whose name I do not know
and who names me.

Out of that river he made a mirror
and asked it about his sorrow.
He made rain out of his grief
and imitated the clouds.

Your childhood is a village.
You will never cross its boundaries
no matter how far you go.

His days are lakes,
his memories floating bodies.

You who are descending
from the mountains of the past,
how can you climb them again,
and why?

Time is a door
I cannot open.
My magic is worn,
my chants asleep.

I was born in a village,
small and secretive like a womb.
I never left it.
I love the ocean not the shores.

From Adonis: Selected Poems, by Adonis, translated by Khaled Mattawa
Copyright © 2010 by Yale University.
More about Khaled Mattawa and Adonis
The following are links to other Web sites with information about translator Khaled Mattawa and poet Adonis. (Note: All links to external Web sites open in a new browser window.)
Have you read Adonis: Selected Poems by Adonis, translated by Khaled Mattawa? Add your comments to this page and let us know what you think.
Photo credit: Khaled Mattawa, by Christopher Rose